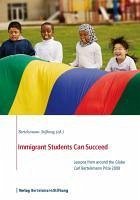 HINWEIS: Dieser Artikel kann aus rechtlichen Gründen nur mit Rechnungsadresse in D, A, CH ausgeliefert werden.
Immigrant Students Can Succeed (eBook, PDF)
Lessons from around the Globe, Carl Bertelsmann Prize 2008
versandkostenfrei

innerhalb Deutschlands

Statt EUR 25,00*

EUR 19,99

Sofort per Download lieferbar

Alle Preise inkl. MwSt.
*Preis der gedruckten Ausgabe (Broschiertes Buch)

-20 %
Andere Kunden interessierten sich auch für
Immigrant Students Can Succeed (eBook, PDF)
Integration requires fair educational opportunities. Learning from International Approaches.
International migration is a permanent fixture of life in the 21st century. Fostering the integration of diverse populations has become a crucial policy challenge because integration greatly impacts social cohesion. Schools are the keystone in building robust integration strategies. As in so many countries around the globe, Germany's population is growing steadily more diverse. At the same time, its institutions, especially schools, have not systematically developed the tools they need to harness the potential of this diversity. Whereas some education policies and programs are fine-tuned to meet the needs of diverse student populations, others have categorically disadvantaged certain segments. As the Pisa studies have shown, students of immigrant origin are at particular risk of attaining academic achievement below their potential. The 2008 Carl Bertelsmann Prize has sought out innovative approaches to education in select OECD countries which promote the integration of children and youth of immigrant origin. The publication also includes perspectives and strategies that could improve education policies, especially in countries like Germany.
Produktinformation
---
ISBN-13: 9783867932516
ISBN-10: 3867932514
Best.Nr.: 37135495
Blick ins Buch "Immigrant Students Can Succeed (eBook, PDF)"