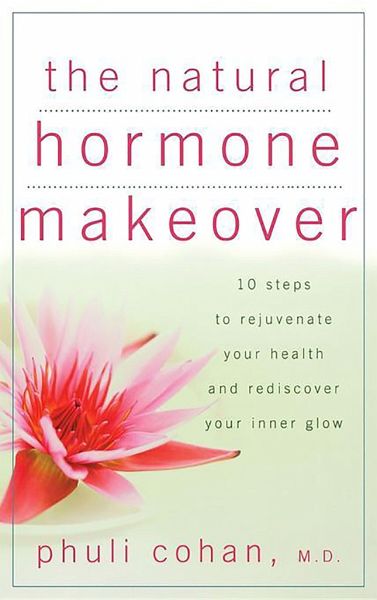 ---
A female doctor who has spent more than two decades studying the relationship between hormones and menopause presents a safe, effective program for using natural and bioidentical hormones to combat hot flashes, insomnia, mood swings, and many other symptoms linked to menopause-related hormone imbalances. Combining traditions of Chinese medicine with the latest Western developments and discoveries, this easy-to-follow ten-step program helps you create a personalized course of treatment using supplements, herbs, natural and bio-identical hormones, and diet to enhance both safety and hormone effectiveness.
---
How To Make Menopause A Healthier, Happier, And Sexier Time Of Life "Finally, a medically researched book that gives the big picture on all of our hormones and how they are interrelated. This book is a survival manual for those of us who want sound medical alternatives for keeping healthy." -Jan Bergstrom, M.Ed., L.M.H.C. "One book that every woman should read-and give to her daughter, her mother, and her friends-is The Natural Hormone Makeover. Dr. Cohan combines a brilliant mind and a tender heart to give readers a book that can truly make a difference in their lives." -Ellen S. Glazer, L.I.C.S.W., author of Experiencing Infertility and The Long-Awaited Stork The Natural Hormone Makeover shows you how to correct perimenopause- and menopause-related hormone imbalances safely by using natural or bioidentical hormones-many of which are available at the drugstore or health food store-instead of risky hormone replacement therapy. You'll learn how to determine which of your hormones-including estrogen, testosterone, DHEA, HGH, progesterone, and melatonin-may be unbalanced and create a personalized program to rebalance and support these hormones with natural hormone supplements, creams, and hormone-stimulating foods. This unique anti-aging approach to menopause also includes a list of the foods that are the most powerful in healing the effects of hormone imbalance and keeping you young and healthy for decades to come. This book is a must-read whether you are thirty-five and just beginning to notice changes or fifty-plus and confused about what to do.
Produktdetails
Best.Nr. des Verlages: 14674484000
Seitenzahl: 282
2008
Englisch
Abmessung: 235mm x 164mm x 26mm
Gewicht: 485g
ISBN-13: 9780471744849
ISBN-10: 0471744840
Best.Nr.: 23013245
Acknowledgments.
Introduction.
Chapter 1. Understanding Health and Hormones.
Chapter 2. The Steps to Bring Back Balance.
Chapter 3. Safety Concerns.
Chapter 4. A Healthy Lifestyle.
Chapter 5. Know Your Symptoms.
Chapter 6. Recommended Tests.
Chapter 7. How to Find the Right Doctor and Support Team.
Chapter 8. Sex Hormones Part I: Perimenopause and More.
Chapter 9. Sex Hormones Part II: Menopause and More.
Chapter 10. Adrenal and Thyroid Hormones.
Chapter 11. Sleep Hormones.
Chapter 12. Growth Hormone.
Conclusion.
Appendix 1.
Appendix 2.
References.