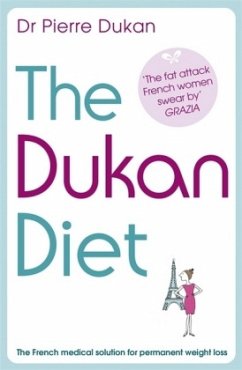 The Dukan Diet - Englischsprachige Ausgabe
The French medical solution for permanent weight loss
Broschiertes Buch
Sprache: Englisch
versandkostenfrei

innerhalb Deutschlands

Sofort lieferbar

Alle Preise inkl. MwSt.
Andere Kunden interessierten sich auch für
The Dukan Diet - Englischsprachige Ausgabe
The Dukan Diet is a unique 4-step programme, combining two steps to lose your unwanted weight and two steps to keep it off for good:
Step 1: Attack
For 2-7 days eat as much as you want of 72 protein-rich foods.
Step 2: Cruise
Continue eating the protein-rich foods with the addition of 28 vegetables.
Step 3: Consolidation
Add fruit, bread, cheese and starchy foods, and 2 celebration meals a week, allowing 5 days for every pound lost.
Step 4: Stabilisation
Eat what you like without regaining weight by following 3 simple rules, including the famous 'protein Thursdays'.
Devised by Dr Pierre Dukan, a French medical doctor who has spent his career helping people to lose weight permanently, The Dukan Diet is the culmination of thirty-five years' clinical experience. Easy to follow with no calorie counting, The Dukan Diet offers clear simple guidelines, menu planners and delicious recipes for long term success.
Beyond its immense success in France, The Dukan Diet has been adopted by 20 countries and translated into 10 languages. Many international observers agree that this is the method most likely to put a stop to the world's weight problems. For more information visit www.dukandiet.co.uk.
Produktinformation
---
Verlag: Hodder & Stoughton
2010
Ausstattung/Bilder: 2010. XV, 364 p. 24x129 mm
Seitenzahl: 364
Englisch
Abmessung: 201mm x 131mm x 30mm
Gewicht: 240g
ISBN-13: 9781444710335
ISBN-10: 1444710338
Best.Nr.: 32068688
'The fat attack French women swear by' Grazia
---
The fat attack French women swear by -- Grazia The ultimate diet. The French have kept it secret for years... Today, more than 1.5million women swear by its dramatic - and long-lasting - results. -- Daily Mail The secret that keeps French women slim. -- Bella It's a four-stage plan that offers the ultimate fast track to weight loss and maintenance with delish French-inspired recipes to keep your taste buds entertained. -- She Politicians, film stars and high-profile models... live the Dukan life. -- Daily Mail How do you fancy getting the legs and curves of Jennifer Lopez without having to go on a diet of lettuce? ... More than 1.5million French women already swear by the slimming regime devised by nutritionist Dr Pierre Dukan ten years ago. -- Daily Mirror All over France right now, women are talking in hushed reverential tones about a certain Pierre Dukan... he is in fact, currently the biggest name on the French dieting scene. -- Grazia French women don't get fat... But now we know the real reason why. for the last ten years, thousands of women across the channel have been following a plan called the Dukan Diet. And the results have been astonishing. -- New Want to know why French women seem to be able to enjoy long Mediterranean-style lunches but still stay slim and gorgeous? It's all down to a diet formula worked out by eminent French doctor Pierre Dukan, based on four different eating phases that follow on from each other but result in speedy weight loss while eating unlimited quantities of real food, six days a week. -- Reveal
Dr Pierre Dukan. Spécialisé dans le comportement alimentaire et la rééducation nutritionnelle, le Dr Pierre Dukan a commencé par façonner sa méthode pour ses propres patients, puis pour les lecteurs de Je ne sais pas maigrir, et enfin pour les millions d'internautes. Traduite en dix langues, sa méthode a séduit de nombreuses cultures dans plus de vingt pays.
Ein Marktplatz-Angebot für "The Dukan Diet - Englischsprachige Ausgabe" für EUR 5,00
Zustand
Preis
Porto
Zahlung
Verkäufer
Rating
leichte Gebrauchsspuren
5,00
1,20
Banküberweisung
wackenpolly
100,0%
ansehen
Andere Kunden kauften auch