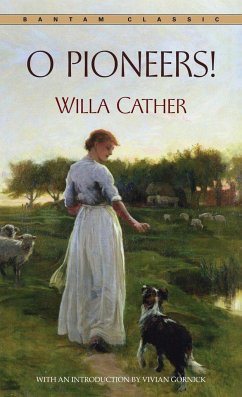 O Pioneers!
Broschiertes Buch
Sprache: Englisch
versandkostenfrei

innerhalb Deutschlands

EUR 5,99

Sofort lieferbar

Alle Preise inkl. MwSt.
Andere Kunden interessierten sich auch für
O Pioneers!
A classic novel of the Nebraska prairie, O Pioneers! is the story of Alexandra Bergson, the daughter of Swedish immigrant farmers, whose devotion to the land sustains her against the hardships and suffering of prairie life. A new addition to the Bantam Classic line.

One of America's greatest women writers, Willa Cather established her talent and her reputation with this extraordinary novel - the first of her books set on the Nebraska frontier. A tale of the prairie land encountered by America's Swedish, Czech, Bohemian, and French immigrants, as well as a story of how the land challenged them, changed them, and, in some cases, defeated them, Cather's novel is a uniquely American epic.

Alexandra Bergson, a young Swedish immigrant girl who inherits her father's farm and must transform it from raw prairie into a prosperous enterprise, is the first of Cather's great heroines - all of them women of strong will and an even stronger desire to overcome adversity and succeed. But the wild land itself is an equally important character in Cather's books, and her descriptions of it are so evocative, lush, and moving that they provoked writer Rebecca West to say of her: "The most sensuous of writers, Willa Cather builds her imagined world almost as solidly as our five senses build the universe around us."

Willa Cather, perhaps more than any other American writer, was able to re-create the real drama of the pioneers, capturing for later generations a time, a place, and a spirit that has become part of our national heritage.
Produktinformation
---
Verlag: Bantam Uk
2010
1989.
Ausstattung/Bilder: 224 S. 6.87 in
Seitenzahl: 224
A Bantam Classic
Altersempfehlung: 14 bis 18 Jahre
Englisch
Abmessung: 174mm x 105mm x 13mm
Gewicht: 115g
ISBN-13: 9780553213584
ISBN-10: 055321358X
Best.Nr.: 21289404
Willa Cather (1873 1947) übersiedelte als Achtjährige mit ihren Eltern von Virginia nach Nebraska, wo sie mit der unermesslichen Prärie, aber auch mit den dortigen Einwanderern aus der Alten Welt Bekanntschaft schloss. Diese Erfahrungen eines Neben- und Miteinander verschiedener Ethnien, Religionen und Kulturen prägten sie tief. Obwohl sie als Lehrerin, Redakteurin und später als erfolgreiche Schriftstellerin vor allem in New York lebte, spielen ihre Werke meist in der heroischen Weite der Prärie des amerikanischen Westens und Südwestens, der sie so ein literarisches Denkmal gesetzt hat. Willa Cather erhielt den Pulitzer-Preis und gilt als eine der großen amerikanischen Erzählerinnen.
---
Chapter One

ONE JANUARY day, thirty years ago, the little town of Hanover, anchored on a windy Nebraska tableland, was trying not to be blown away. A mist of fine snowflakes was curling and eddying about the cluster of low drab buildings huddled on the gray prairie, under a gray sky. The dwelling-houses were set about haphazard on the tough prairie sod; some of them looked as if they had been moved in overnight, and others as if they were straying off by themselves, headed straight for the open plain. None of them had any appearance of permanence, and the howling wind blew under them as well as over them. The main street was a deeply rutted road, now frozen hard, which ran from the squat red railway station and the grain "elevator" at the north end of the town to the lumber yard and the horse pond at the south end. On either side of this road straggled two uneven rows of wooden buildings; the general merchandise stores, the two banks, the drug store, the feed store, the saloon, the post-office. The board sidewalks were gray with trampled snow, but at two o'clock in the afternoon the shopkeepers, having come back from dinner, were keeping well behind their frosty windows. The children were all in school, and there was nobody abroad in the streets but a few rough-looking countrymen in coarse overcoats, with their long caps pulled down to their noses. Some of them had brought their wives to town, and now and then a red or a plaid shawl flashed out of one store into the shelter of another. At the hitch-bars along the street a few heavy work-horses, harnessed to farm wagons, shivered under their blankets. About the station everything was quiet, for there would not be another train in until night.

On the sidewalk in front of one of the stores sat a little Swede boy, crying bitterly. He was about five years old. His black cloth coat was much too big for him and made him look like a little old man. His shrunken brown flannel dress had been washed many times and left a long stretch of stocking between the hem of his skirt and the tops of his clumsy, copper-toed shoes. His cap was pulled down over his ears; his nose and his chubby cheeks were chapped and red with cold. He cried quietly, and the few people who hurried by did not notice him. He was afraid to stop any one, afraid to go into the store and ask for help, so he sat wringing his long sleeves and looking up a telegraph pole beside him, whimpering, "My kitten, oh, my kitten! Her will fweeze!" At the top of the pole crouched a shivering gray kitten, mewing faintly and clinging desperately to the wood with her claws. The boy had been left at the store while his sister went to the doctor's office, and in her absence a dog had chased his kitten up the pole. The little creature had never been so high before, and she was too frightened to move. Her master was sunk in despair. He was a little country boy, and this village was to him a very strange and perplexing place, where people wore fine clothes and had hard hearts. He always felt shy and awkward here, and wanted to hide behind things for fear some one might laugh at him. Just now, he was too unhappy to care who laughed. At last he seemed to see a ray of hope: his sister was coming, and he got up and ran toward her in his heavy shoes.

His sister was a tall, strong girl, and she walked rapidly and resolutely, as if she knew exactly where she was going and what she was going to do next. She wore a man's long ulster (not as if it were an affliction, but as if it were very comfortable and belonged to her; carried it like a young soldier), and a round plush cap, tied down with a thick veil. She had a serious, thoughtful face, and her clear, deep blue eyes were fixed intently on the distance, without seeming to see anything, as if she were in trouble. She did not notice the little boy until he pulled her by the coat. Then she stopped short and stooped down to wipe his wet face.

&q
2 Marktplatz-Angebote für "O Pioneers!" ab EUR 2,90