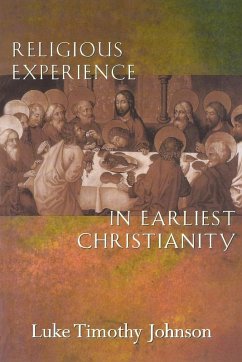 Religious Experience in Earliest Christianity
Broschiertes Buch
Sprache: Englisch
versandkostenfrei

innerhalb Deutschlands

EUR 21,95

Versandfertig in über 4 Wochen

Alle Preise inkl. MwSt.
Andere Kunden interessierten sich auch für
Religious Experience in Earliest Christianity
Luke Johnson here issues a provocative call for a radically new direction in New Testament studies that can change the way we have viewed the entire phenomenon of early Christianity. Johnson is convinced that the dominant ways of studying early Christianity tend to miss its specifically religious character, because of a disjunction between formal religion and "popular" religion. He proposes in this book, by means of three case studies -- baptism, glossolalia, and meals -- to show how a more holistic, phenomenological approach can be made. This makes possible the inclusion in the study of early Christianity the world of healings and religious power, of ecstasy and spirit -- in short, the religious experience of real persons. It is this subtle yet real presence of religious experience that alters the discipline and practice of New Testament scholarship, as Johnson notes: "This is neither history in the strict sense of the term, nor is it theology. That's the whole point: we need a new way of looking in order to see what we can't otherwise see. If I have succeeded at least in whetting an appetite for getting at what these chapters try to get at, I am content, for what they try to get at is important." Johnson concludes that there is still much to be learned about early Christianity as a religion, if we can find a way to get at the category of real experience. He maintains that early Christian texts reflect lives that are caught up by and defined by a power not in their control but controlled instead by the crucified and raised Messiah Jesus.
Produktinformation
---
Verlag: FORTRESS PR
1998
Seitenzahl: 199
Englisch
Abmessung: 230mm x 154mm x 13mm
Gewicht: 340g
ISBN-13: 9780800631291
ISBN-10: 0800631293
Best.Nr.: 21383169