This book is designed to help you find the good life. By that, I don't mean swimming pools, mansions, and private jets -- unless those are really your big passions. But if you picked up a book called I Could Do Anything If I Only Knew What It Was , you're probably looking for a lot more than a swimming pool.

You want a life you will love.

A friend's father got it right when he said \"The good life is when you get up in the morning and can't wait to start all over again.\"

Is that you? Or does his idea of the good life sound like an unreachable paradise? If you aren't the kind of person who jumps out of bed every morning excited about the day ahead, I know you desperately long to find a goal that will make you feel like my friend's father. You crave work that will spark excitement and energy; you yearn to find the place where you can make your mark. Albert Schweitzer found his place, so did Golda Meir, and so did the kid next door who practiced guitar day and night. They knew how to live. They believed in what they were doing with all their hearts. They knew their work was important. When you get near people who are pursuing their heart's desire, you can see the intensity on their faces.

Life is just too short to live without that kind of focus.

In the early 1980s, two Harvard psychologists completed a study of people who called themselves happy. And what did happy people have in common? Money? Success? Health? Love?

None of these things.

They had only two things in common: They knew exactly what they wanted and they felt they were moving toward getting it.

That's what makes life feel good: when it has direction, when you are headed straight for what you love.

And I mean love.

I don't mean what you're skilled at. I don't really care what your skills are. When I was a single working mother with two babies, you know what my skills were? I could clean house like a demon; catch a moving bus with my arms full of laundry, groceries, and kids; and squeeze a dollar until the picture of George Washington screamed for mercy.

I do not want the career that uses those skills, thank you.

I don't believe you live the good life by doing what you can do; you live it by doing what you want to do. I don't even think your greatest talents necessarily show up in your skills. All of us are good at things we're not madly in love with. And all of us have talents we've never used.

Relying on your skills to guide you is simply unacceptable. That's why I don't intend to give you personality tests or skills assessments to find out what you should be doing.

I know what you should be doing.

You should be doing what you love.

What you love is what you are gifted at. Only love will give you the drive to stick to something until you develop your gift. That's the way really big things get accomplished in this world -- by people no different than you and I who know what they want and put everything they've got behind it.

If you don't know what you want, you can't get out of the starting gate -- and that's discouraging. But you're not alone. Recent figures show that as many as 98 percent of Americans are unhappy in their jobs. And it isn't only financial considerations that keep them where they are; they simply don't know what to do instead. What you may have thought was your private little nightmare turns out to be heartbreakingly common.

Well, I have a surprise for you.

You do know what you want.

Everybody does. That's why you feel so restless when you can't find the right track. You sense there's some particular work you are meant to be doing. And you're right. Einstein needed to formulate theories of physics, Harriet Tubman needed to guide people to freedom, and you need to follow your original vision. As Vartan Gregorian said, \"The<\/div>"}'>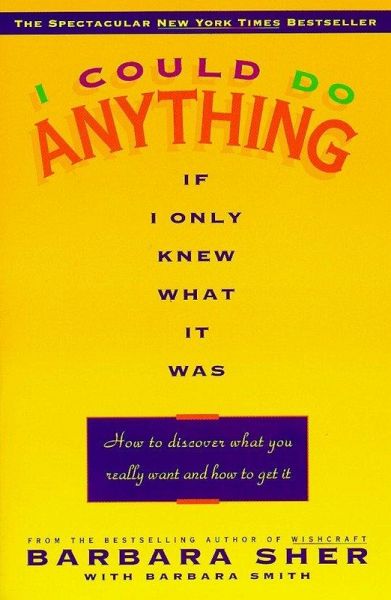 If you suspect there could be more to life than what you're getting...if you always knew you could do anything if you only knew what it was, this extraordinary book is about to prove you right!

A life without direction is a life without passion. The dynamic follow-up to the phenomenal best-seller Wishcraft , I Could Do Anything If I Only Knew What It Was (the New York Times Bestseller) guides you, not to another unsatisfying job, but to a richly rewarding career rooted in your heart's desire. And in a work of true emancipation, this life-changing sourcebook reveals how you can recapture "long lost" goals, overcome the blocks that inhibit your success, decide what you want to be, and live your dreams forever!

You will learn:

What to do if you never chose to be what you are.
How to get off the fast track--and on to the right track.
First aid techniques for paralyzing chronic negativity.
How to regroup when you've lost your big dream.
To stop waiting for luck--and start creating it.
Produktdetails
Verlag: Dell
1995.
Seitenzahl: 336
2006
Ausstattung/Bilder: 336 S. 9.2 in
Englisch
Abmessung: 235mm x 156mm x 19mm
Gewicht: 350g
ISBN-13: 9780440505006
ISBN-10: 0440505003
Best.Nr.: 20878441
"For those who want to find their passion...a step-by-step guide for restructuring one's life so that it has meaning, direction and joy."
--Ellen Kreidman, author of Light His Fire and Light Her Fire

"Refreshingly witty and wise...Full of genuine and useful insight for achieving what you want from a career."
--Wess Roberts, Ph.D., author of Leadership Secrets of Attila the Hun