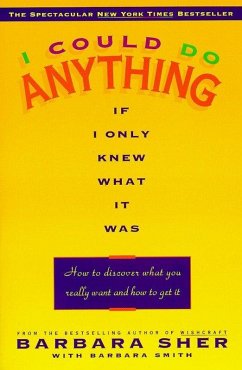 I Could Do Anything If I Only Knew What It Was: How to Discover What You Really Want and How to Get It
With Barbara Smith
Broschiertes Buch
Sprache: Englisch
versandkostenfrei

innerhalb Deutschlands

EUR 11,95

Sofort lieferbar

Alle Preise inkl. MwSt.
Andere Kunden interessierten sich auch für
I Could Do Anything If I Only Knew What It Was: How to Discover What You Really Want and How to Get It
If you suspect there could be more to life than what you're getting...if you always knew you could do anything if you only knew what it was, this extraordinary book is about to prove you right! A life without direction is a life without passion. The dynamic follow-up to the phenomenal best-seller "Wishcraft, "I Could Do Anything If I Only Knew What It Was (the "New York Times Bestseller) guides you, not to another unsatisfying job, but to a richly rewarding career rooted in your heart's desire. And in a work of true emancipation, this life-changing sourcebook reveals how you can recapture "long lost" goals, overcome the blocks that inhibit your success, decide what you want to be, and live your dreams forever! You will learn: * What to do if you never chose to be what you are. * How to get off the fast track--and on to the right track. * First aid techniques for paralyzing chronic negativity. * How to regroup when you've lost your big dream. * To stop waiting for luck--and start creating it.
Produktinformation
---
Verlag: Dell
1995
1995.
Ausstattung/Bilder: XIV, 322 p.
Seitenzahl: 336
Englisch
Abmessung: 235mm x 156mm x 19mm
Gewicht: 350g
ISBN-13: 9780440505006
ISBN-10: 0440505003
Best.Nr.: 20878441
Barbara Sher, Therapeutin, Karriereberaterin und Erfinderin der Erfolgsteams, bietet in den USA und weltweit Seminare an. Sie lebt in New York.
Ein Marktplatz-Angebot für "I Could Do Anything If I Only Knew What It Was: How to Discover What You Really Want and How to Get It" für EUR 183,22
Zustand
Preis
Porto
Zahlung
Verkäufer
Rating
gebraucht; gut
183,22
2,90
PayPal, Banküberweisung
Mosakowski & Stiasny GbR
97,5%
ansehen