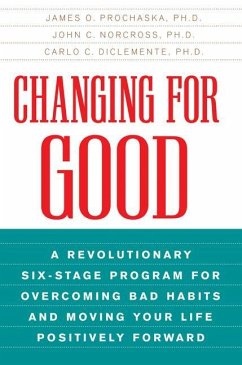 Changing for Good
Illustration: Norcross, John C.
Broschiertes Buch
Sprache: Englisch
versandkostenfrei

innerhalb Deutschlands

EUR 12,95

Sofort lieferbar

Alle Preise inkl. MwSt.
Andere Kunden interessierten sich auch für
Changing for Good
How many times have you thought about starting a diet or quitting smoking without doing anything about it? Or lapsed back into bad habits after hitting a rough spot on the road to recovery? To uncover the secret to successful personal change, three acclaimed psychologists studied more than 1000 people who were able to positively and permanently alter their lives without psychotherapy. They discovered that change does "not" depend on luck or willpower. It is a process that can be successfully managed by anyone who understands how it works. Once you determine which stage of change you're in, you can: create a climate where positive change can occur maintain motivation turn setbacks into progress make your new beneficial habits a "permanent" part of your life This groundbreaking book offers simple self-assessments, informative case histories, and concrete examples to help clarify each stage and process. Whether your goal is to start saving money, to stop drinking, or to end other self-defeating or addictive behaviors, this revolutionary program will help you implement positive personal change . . . for life. THE NATIONAL CANCER INSTITUTE HAS FOUND THIS PROGRAM MORE THAN TWICE AS EFFECTIVE AS STANDARD PROGRAMS IN HELPING SMOKERS QUIT FOR 18 MONTHS.
Produktinformation
---
Verlag: Harpercollins Us
2011
Avon Bks Trade.
Ausstattung/Bilder: 2007. 304 p. 203 mm
Seitenzahl: 304
Englisch
Abmessung: 205mm x 134mm x 21mm
Gewicht: 259g
ISBN-13: 9780380725724
ISBN-10: 038072572X
Best.Nr.: 22440319
John C. Norcross, PhD, ist Professor für Psychologie an der Universität von Scranton und arbeitet Teilzeit als psychologischer Psychotherapeut in einer Praxis.