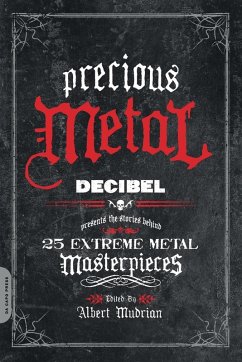 precious Metal: DECIBEL Presents the Stories Behind 25 Extreme Metal Masterpieces
Herausgeber: Mudrian, Albert
Broschiertes Buch
Sprache: Englisch
versandkostenfrei

innerhalb Deutschlands

Versandfertig in über 4 Wochen

Alle Preise inkl. MwSt.
Andere Kunden interessierten sich auch für
precious Metal: DECIBEL Presents the Stories Behind 25 Extreme Metal Masterpieces
The making of the 25 greatest extreme metal albums of all time, as told via exclusive band-member interviews, drawn and expanded from "Decibel"'s "Hall of Fame"
Produktinformation
---
Verlag: DA CAPO PR
2009
Seitenzahl: 365
Englisch
Abmessung: 236mm x 154mm x 29mm
Gewicht: 471g
ISBN-13: 9780306818066
ISBN-10: 030681806X
Best.Nr.: 26181122
"Booklist," 7/1/09 "Skimming the cream of 'extreme' metal--death metal, black metal, thrash metal, and such--is a grisly task, but the gang at "Decibel Magazine" is on top of it. Their picks are landmarks of their kind, and each is presented here with accompanying interviews of all band personnel involved...What's here is all dark, all bombastic, all great music." "Record Collector," August 2009 "The choice of inclusion of albums by Botch, Converge, Down and The Dillinger Escape Plan indicate the breadth of tastes which underpins the book." "Austin Chronicle," 7/17/09 "["Precious Metal"'s] impressive scope covers every facet of the genre...The roundtable, oral-history approach leads to interesting contradictions and revelations." Blogcritics.org, 7/21/09 "The bookends are Black Sabbath's "Heaven And Hell" to Converge's "Jane Doe." And there are some worthy stories in between..."Precious Metal" is a great book on its own terms." "New York Post"'s "Required Reading" column, 7/26/09 "How can you not like a book which quotes someone saying, 'I guess I was never a real Satanist--it was just a pose.'...Editor Mudrian gives us a behind-the-scenes peak at 25 'extreme metal masterpeices.'" Bookgasm.com, 7/30/09 "The book does exactly what it sets out to do, telling chapter-long 'making of' tales of more than two dozen albums...The Q&A format keeps the engine chugging...This is one for those guys who sat in the back of my bus in junior high school. Those guys who stepped on every morning with their sleeveless Iron Maiden T-shirts and glassy-eyed, vacant stares. This is for them, provided they read, provided they're still alive." Examiner.com, 7/31/09 "Throughout the book, fans can revisit those genre-defining nuggets." MSN Music, Headbang blog, 8/3/09 "One of the best books ever written about metal...Whether you're a fan of the bands interviewed or not, it's a great read...Each chapter is a quick read, but packed with back
Albert Mudrain is the Editor in Chief of Decibel and the author of the cult classic Choosing Death: The Improbable History of Death Metal and Grindcore.
Ein Marktplatz-Angebot für "precious Metal: DECIBEL Presents the Stories Behind 25 Extreme Metal Masterpieces" für EUR 17,95
Zustand
Preis
Porto
Zahlung
Verkäufer
Rating
17,95
3,80
Banküberweisung
Medium Buchmarkt
100,0%
ansehen