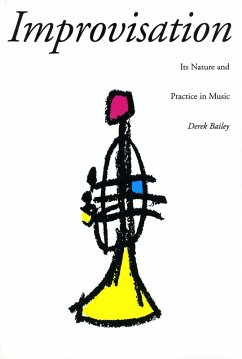 Improvisation: Its Nature and Practice in Music
Broschiertes Buch
Sprache: Englisch
versandkostenfrei

innerhalb Deutschlands

EUR 12,95

Versandfertig in über 4 Wochen

Alle Preise inkl. MwSt.
Andere Kunden interessierten sich auch für
Improvisation: Its Nature and Practice in Music
Derek Baileys Improvisation , originally published in 1980, and here updated and extended with new interviews and photographs, is the first book to deal with the nature of improvisation in all its formsIndian music, flamenco, baroque, organ music, rock, jazz, contemporary, and free music. By drawing on conversations with some of todays seminal improvisersincluding John Zorn, Jerry Garcia, Steve Howe, Steve Lacy, Lionel Salter, Earle Brown, Paco Pea, Max Roach, Evan Parker, and Ronnie ScottBailey offers a clear-eyed view of the breathtaking spectrum of possibilities inherent in improvisational practice, while underpinning its importance as the basis for all music-making.
Produktinformation
---
Verlag: DA CAPO PR
1993
Revised.
Seitenzahl: 176
Englisch
Abmessung: 226mm x 152mm x 13mm
Gewicht: 249g
ISBN-13: 9780306805288
ISBN-10: 0306805286
Best.Nr.: 21557621
Guitarist Derek Bailey has performed solo concerts throughout the world, played with most of the musicians associated with free improvisation, and recorded over ninety albums. He lives in London, where he divides his time between solo performances; organizing and playing in Company, an international ensemble of improvising musicians; running his own label, Incus Records; writing; and ad hoc musical activities.
Part One
Indian music (1)
Indian music (2)
Flamenco Part Two
Baroque (1)
Baroque (2)
Organ (1)
Organ (2) Part Three
Rock
Audience
Jazz (1)
Jazz (2)
Jazz (2) Part Four
The Composer
The Composer and the Non-Improviser
The ComposerIn Practice (1)
The ComposerIn Practice (2)
The ComposerIn Question Part Five
Free
Joseph Holbrooke
The Music Improvisation Company
The MICThe Instrument
The MICRecording
Solo Part Six
Objections
Classroom Improvisation Part Seven
The Long Distance Improviser
Company
Limits and Freedom