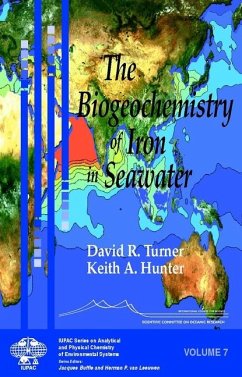 The Biogeochemistry of Iron in Seawater
Herausgeber: Hunter, Keith A.; Turner, David R.
Gebundenes Buch
Sprache: Englisch
versandkostenfrei

innerhalb Deutschlands

Versandfertig in über 4 Wochen

Alle Preise inkl. MwSt.
Andere Kunden interessierten sich auch für
The Biogeochemistry of Iron in Seawater
Im Laufe der 90er Jahre, der sog. "Eisenzeit der Ozeanographie", wurden sehr viele neue Informationen über den Verbleib von Eisen in Meerwasser gewonnen. Anerkannte Experten bieten Ihnen in diesem Band einen Überblick über den aktuellen Stand der Forschung. Das letzte Kapitel fasst die Ergebnisse zusammen und zeigt Prioritäten der zukünftigen Arbeit auf.Intensive research carried out during the 1990's (known as the "Iron Age of Oceanography") provided a wealth of new information and this title, written by acknowledged experts and reviewed by international specialists, provides the authoritative and comprehensive review of the subject area.A joint venture between SCOR and IUPAC, it expertly addresses the current state of knowledge of the biogeochemistry of iron in seawater and covers: Chemical speciation Analytical techniques Transformation of iron It includes evidence for iron limitation of primary production of High Nutrient Low Chlorophyll (HNLC) areas in the ocean Structured into a series of chapters it has been reviewed by international specialists- SCOR (Scientific Committee for Ocean Research) and IUPAC (International Union for Pure and Applied Chemistry) The final chapter summarises the conclusions of the book and discusses the priorities for future research Ideal for scientists studying the environmental impact ofmetals and their role in marine ecosystems; Marine Scientists and Oceanographers; Environmental Analytical Chemists
Produktinformation
---
Verlag: Wiley & Sons
2001
Ausstattung/Bilder: XIV, 396 pages - 235 x 159 mm
Seitenzahl: 410
IUPAC Series on Analytical and Physical Chemistry of Environmental Systems
Englisch
Abmessung: 235mm x 162mm x 28mm
Gewicht: 720g
ISBN-13: 9780471490685
ISBN-10: 0471490687
Best.Nr.: 14909096
"Describes the growing consensus that low iron concentrations in the Antarctic and the equatorial Pacific oceans are the cause of reduced chlorophyll for phytoplankton production..." (SciTech Book News, Vol. 26, No. 2, June 2002)
Inhaltsangabe
List of Contributors.
Series Preface.
Preface.
Introduction (D.R. Turner, K.A. Hunter and H.J.W. de Baar).
Iron Limitation in the Oceans (A.J. Watson).
Bioavailability and Bioaccumulation of Iron in the Sea (W.G. Sunda).
Atmospheric Iron Inputs to the Oceans (T.D. Jickells and L.J. Spokes).
Distributions, Sources and Sinks of Iron in Seawater (H.J.W. de Baar and J.T.M de Jong).
Analytical Methods for the Determination of Concentrations and Speciation of Iron (K.W. Bruland and E.L. Rue).
Thermodynamics of the Iron System in Seawater (T.D. Waite).
Transformations Among Different Forms of Iron in the Ocean (J.W. Moffett).
Summary and Recommendations (K.A. Hunter, P.W. Boyd, K.W. Bruland, J. Buffle, P. Buat-Menard, H.J.W. de Baar, R.A. Duce, W.J. Sunda, T.D. Jickells, J.W. Moffett, E.L. Rue, L.J. Spokes, B. Sulzberger, D.R. Turner, T.D. Waite, A.J. Watson and M. Whitfield).
Index.