Chapter ONE

THE COUNTDOWN

PREPARING FOR THE RACE BEFORE YOU REACH THE STARTING LINE

When does a race begin? At the starting line, when you are taking your last deep breath in anticipation of the starter's gun? Earlier that day, when you follow the rituals that focus your mind on the race ahead? Or weeks or months in advance, when you construct the training program that will enable you to meet and manage the upcoming trial?

WALK IN WITH A \"STRATEGIC PROCESS\"

Everyone's countdown period to a new leadership position is different, depending on whether they come into a new position from inside their organization or were recruited from the outside, whether they are entering a company in crisis or in a stable environment, and whether they are jumping right into a new job from an already demanding one or have the luxury of some free time for additional preparation.

But all countdown periods share a common goal: to learn as much as possible about the new world you're about to enter so that you can figure out how to best explore and navigate your way through it. To accomplish that, says Dave Peterschmidt, CEO of the Internet security firm Securify and former CEO and COO respectively of Internet pioneers Inktomi and Sybase, \"You shouldn't expect to walk into a new leadership job with an established strategic plan. Rather, you should walk in prepared to lead a strategic process.\"

This is a process of multiple dimensions. You're clearing and focusing your thoughts so that you can diagnose the challenges and opportunities of the new situation. You're identifying key constituencies and starting to forge alliances and build new relationships. You're attempting to flush out biases while distilling valuable information from people who have key insights into the company. You're thinking about all that needs to be done in the context of your own skills and experience. You're considering the strength of the managers who will soon make up your team, and you're hypothesizing about where the holes are likely to be. Simultaneously, you're preparing yourself emotionally for a major life transition and taking steps to get your family and support infrastructure ready to run without you for a period of time.

THE VALUE OF PREPARATION

By now, just about everyone knows that Lance Armstrong is the record- breaking six-consecutive-times winner of the Tour de France, one of the most grueling endurance contests in the world. His success is based not only on his extraordinary athletic ability, supernatural lung capacity, and ferocious competitive drive fired by his heroic conquering of cancer, but also on the intensive time and energy he invests in preparing for the race. In his memoir, It's Not About the Bike, Armstrong discusses the importance of building the right team, learning the course, and ensuring that he and his support staff have the right training, the proper conditioning, and the best equipment to go for the win. He literally memorizes the entire 2,106-mile course, diligently researching every conceivable permutation of wind, weather, and temperature affecting each curve and straightaway.

No serious athlete walks into a competition without prior preparation. It should be no different when you are approaching a challenging new business assignment. You too are entering a race. If you are not sharp and at the top of your game before the starting gun fires, you will squander a golden opportunity and diminish your chances of achieving your goals.

\"The countdown establishes the foundation to maximize your chances for success,\" says Dan Schulman, CEO of Virgin Mobile USA. \"The days leading up to the point when you actually take the job are some of the most important to being successful. Day one on the job better not be 'day one' where you're working on your action plan; it should be well under way by the time you get there.\"

SPEND TIME IN THE RIGHT WAYS

Establishing a<\/div>"}'>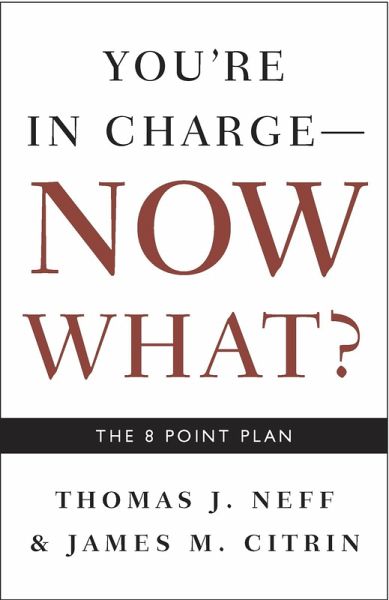 Two career and business experts share their eight-point plan on how to succeed in a new job or project, offering helpful guidelines on leadership, decision-making skills, interpersonal relationships, and other key aspects of the corporate environment.

When you start a new job, you are in a "temporary state of incompetence," faced with having to do the most when you know the least. Tom Neff and Jim Citrin, two of the world's experts on leadership and career achievement, know what it takes to succeed in a new position. Through compelling, first-hand stories, from CEOs like Jeffrey Immelt of GE and Bob Eckert of Mattel, You're in Charge-Now What? offers an eight-point plan to show you how to lay the groundwork for long-term momentum and great performance.
Produktdetails
Verlag: Three Rivers Press
Seitenzahl: 299
2009
Ausstattung/Bilder: 2007. 320 S. 8 in
Englisch
Abmessung: 202mm x 134mm x 18mm
Gewicht: 230g
ISBN-13: 9781400048663
ISBN-10: 1400048664
Best.Nr.: 21093725
Table of Contents:
- Introduction
- The First Steps: Aligning Expectations
- No One Can Do It Alone: Shaping Your Management Team
- Crafting Your Strategic Agenda
- Culture Is the Game: Starting to Transform the Corporate Culture
- Answering to a Higher Authority: Establishing a Productive Working Relationship with Your Boss (or Board)
- Communication: The Key to Implementing Your Agenda
- Resisting Temptation: Avoiding the Top Ten Traps for New Leaders
- CONCLUSION Next Step to Enduring Success---The Next Hundred Days
- APPENDIX The Spencer Stuart 8 Point Plan for the First Hundred Days
- Gary Kusin's First Hundred Day Plan for Kinko's
- "On Becoming an Associate''
- Bibliography
- Acknowledgments
- Index
"Take it from someone who's been there. You're in Charge-Now What? asks all the right questions and tracks down all the right answers from people who ought to know."
-Dick Parsons, chairman and CEO, Time Warner Inc.

"The secret road maps of many prominent leaders are revealed for the first time."
-Jeffrey Sonnenfeld, Yale Chief Executive Leadership Institute

"Leavened by anecdote and enriched by the authors' deep understanding of American corporate culture, this book isn't just a navigational chart for the Big Cheese. It is also an entertaining read for the layman." - Time