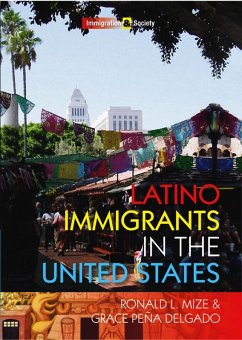 Latino Immigrants in the United States
Gebundenes Buch
Sprache: Englisch
versandkostenfrei

innerhalb Deutschlands

EUR 58,95

Versandfertig in über 4 Wochen

Alle Preise inkl. MwSt.
Andere Kunden interessierten sich auch für
Latino Immigrants in the United States
* A sophisticated yet accessible introduction to the experiences of Latino immigrant groups in the US - the largest minority group in the US * Covers topics such as the definition of the 'Latino' category, pathways to citizenship, gender, labour and transnationalism.
Produktinformation
---
Verlag: POLITY PR
2012
Seitenzahl: 194
Englisch
Abmessung: 211mm x 152mm x 20mm
Gewicht: 386g
ISBN-13: 9780745647425
ISBN-10: 0745647421
Best.Nr.: 34441728
"In the field of immigration it is often difficult to find books that combine the three main features of a good book: readable, informative, and allowing readers to wander with their minds beyond the book's written content. With no doubt, Ronald Mize and Grace Pena Delgado have skillfully mastered these goals" International Sociology Review of Books "Throughout the last century Latino immigrants have served as convenient scapegoats for the economic ills of the United States, with many Americans continuing to view immigration narrowly as occurring in a vacuum. In this book, Mize and Delgado clearly illustrate the complex nature of immigration. Replete with valuable insights linking communities from where Latino immigrants originate and those where they relocate, this book is a valuable addition to our understanding of the global and transnational forces that create and sustain immigration between Latin America and the United States. The book is a must-read for those interested in understanding the big forces that drive immigration and the tremendous profits that capitalists gain from the exploitation of desperate human beings." Rogelio Saenz, Dean of the College of Public Policy, University of Texas at San Antonio "In this clear and dramatic account of the challenges and triumph of Latino immigration in the US , Mize and Delgado reveal the dramatic and fascinating dialectic between politics and identity, the national and the local, and an indiscriminate Nativism and the 'Latinidad' it ironically helped to engender." Lawrence Taylor, Author of Tunnel Kids and Vice-President for International Affairs at the National University of Ireland, Maynooth "a timely corrective to the current debates surrounding Latino immigration and does a wonderful job at illuminating the struggles immigrants face. This book will serve as a useful companion to sociologists, political scientists, international economists, historians, and those concerned about one of the most pressing issues of the day." Contemporary Sociology
Ronald L. Mize is Assistant Professor of Latino Studies at Cornell University Grace Pena Delgado is Assistant Professor of History at The Pennsylvania State University
Preface: In The Shadows of America Tropical
Chapter One: Introduction: Latino Immigrants Claiming Rights
Chapter Two: Latinidades: The Making of Identity and Community
Chapter Three: Pathways to Citizenship
Chapter Four: Cultural Citizenship, Gender, and Labor
Chapter Five: Transnational Identities
Chapter Six: Neoliberalism & Globalization
Chapter Seven: Conclusion: Fronteras Nuevas/New Frontiers
Bibliography