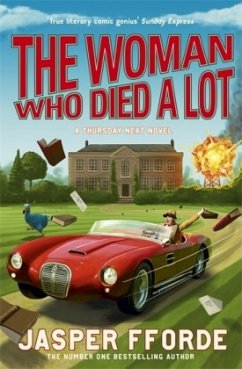 The Woman Who Died a Lot
Broschiertes Buch
Sprache: Englisch
versandkostenfrei

innerhalb Deutschlands

Bisher EUR 14,95*

EUR 13,95

Sofort lieferbar

Alle Preise inkl. MwSt.
*Früherer Preis

-7 %
Andere Kunden interessierten sich auch für
The Woman Who Died a Lot
This is the new Thursday Next novel from Number One bestselling author Jasper Fforde, who has a cult following.

The BookWorld's leading enforcement officer Thursday Next is four months into an enforced semi-retirement following an assassination attempt. She returns home to Swindon for what you'd expect to be a time of recuperation. If only life were that simple.
Thursday is faced with an array of family problems - son Friday's lack of focus since his career in the Chronoguard was relegated to a might-have-been, daughter Tuesday's difficulty perfecting the Anti-Smote shield needed to thwart an angry Deity's promise to wipe Swindon off the face of the earth, and Jenny, who doesn't exist.
And that's not all. With Goliath attempting to replace Thursday at every opportunity with synthetic Thursdays, the prediction that Friday's Destiny-Aware colleagues will die in mysterious circumstances, and a looming meteorite that could destroy all human life on earth, Thursday's retirement is going to be anything but easy.
Produktinformation
---
Verlag: Hodder & Stoughton
2012
Trade Paperback.
Ausstattung/Bilder: 2012. 384 p. 234 mm
Seitenzahl: 384
Thursday Next Nr.7
Englisch
Abmessung: 234mm x 154mm x 32mm
Gewicht: 527g
ISBN-13: 9780340963128
ISBN-10: 0340963123
Best.Nr.: 34546541
Jasper Fforde wurde 1961 in Wales geboren. Bevor er sich hauptberuflich dem Schreiben widmen konnte, war er 19 Jahre in der Filmindustrie tätig und verfasste nebenbei Romane. Jasper Fforde lebt mit seiner Frau und seinen sechs Kindern in Wales.
2 Marktplatz-Angebote für "The Woman Who Died a Lot" ab EUR 2,80