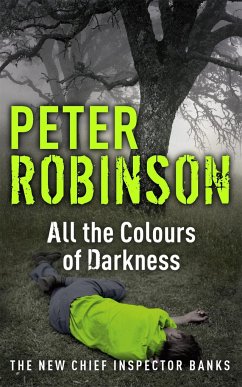 All the Colours of Darkness
The New Chief Inspector Banks
Broschiertes Buch
Sprache: Englisch
versandkostenfrei

innerhalb Deutschlands

Sofort lieferbar

Alle Preise inkl. MwSt.
Andere Kunden interessierten sich auch für
All the Colours of Darkness
A beautiful June day in the Yorkshire Dales, and a group of children are spending the last of their half-term freedom swimming in the river near Hindswell Woods. But the idyll is shattered by their discovery of a man's body, hanging from a tree. DI Annie Cabott soon discovers he is Mark Hardcastle, the well-liked and successful set designer for the Eastvale Theatre's current production of Othello.
Everything points to suicide, and Annie is mystified. Why would such a man want to take his own life? Then Annie's investigation leads to another shattering discovery, and DCI Alan Banks is called back from the idyllic weekend he had planned with his new girlfriend. Banks soon finds himself plunged into a shadow-world where nothing is what it seems, where secrets and deceit are the norm, and where murder is seen as the solution to a problem.
The deeper he digs the more he discovers that the monster he has awakened will extend its deadly reach to his friends and family. Nobody is safe.
Produktinformation
---
Verlag: Hodder & Stoughton
2009
Ausstattung/Bilder: 2009. 528 S. 33x115 mm
Seitenzahl: 507
Alan Banks Vol.18
Englisch
Abmessung: 179mm x 111mm x 33mm
Gewicht: 275g
ISBN-13: 9780340836941
ISBN-10: 0340836946
Best.Nr.: 25035760
Praise for PIECE OF MY HEART and FRIEND OF THE DEVIL -- : 'Peter Robinson has for too long, and unfairly, been in the shadow of Ian Rankin; perhaps PIECE OF MY HEART, the latest in the Chief Inspector Banks series, will give him the status he deserves, near, perhaps even at the top of, the British crime writers' league ... PIECE OF MY HEART brilliantly interweaves past and present ... further enhancing Alan Banks's reputation as one of crime fiction's most appealing cops' -- Marcel Berlins, The Times Peter Robinson is good at producing ingenious mysteries, and this one does not disappoint -- Susanna Yager, Daily Telegraph A police procedural that grips like pliers -- Independent on Sunday
Peter Robinson, geboren 1950 in Yorkshire, lebt seit etwa zwanzig Jahren in Toronto, Kanada. Er feiert mit seiner Serie um den sympathischen und sehr menschlichen Inspector Alan Banks diesseits und jenseits des Atlantiks große Erfolge und erhielt zahlreiche Preise in den USA, Großbritannien und Europa. Großbritannien besucht er regelmäßig, aber außerhalb zu leben, bringt seiner Meinung nach "eine sehr sinnvolle Distanz zu Großbritannien".
4 Marktplatz-Angebote für "All the Colours of Darkness" ab EUR 2,60
Zustand
Preis
Porto
Zahlung
Verkäufer
Rating
leichte Gebrauchsspuren
2,60
1,00
Banküberweisung
quappe11
100,0%
ansehen
leichte Gebrauchsspuren
3,00
1,20
Banküberweisung
namenlos2709
100,0%
ansehen
deutliche Gebrauchsspuren
3,00
1,90
Banküberweisung, offene Rechnung, Selbstabholung und Barzahlung, offene Rechnung (Vorkasse vorbehalten)
Tisa
100,0%
ansehen
gebraucht; sehr gut
20,00
2,00
offene Rechnung
Antiquariat Buchhandel Daniel Viertel
99,1%
ansehen