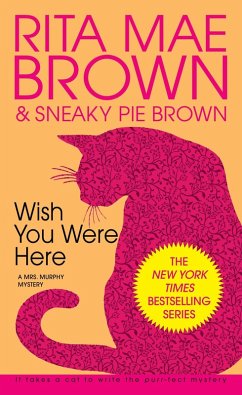 Wish you were here
Broschiertes Buch
Sprache: Englisch
versandkostenfrei

innerhalb Deutschlands

EUR 9,95

Sofort lieferbar

Alle Preise inkl. MwSt.
Andere Kunden interessierten sich auch für
Wish you were here
Curiosity just might be the death of Mrs. Murphy--and her human companion, Mary Minor "Harry" Haristeen. Small towns are like families: Everyone lives very close together. . .and everyone keeps secrets. Crozet, Virginia, is a typical small town-until its secrets explode into murder. Crozet's thirty-something post-mistress, Mary Minor "Harry" Haristeen, has a tiger cat (Mrs. Murphy) and a Welsh Corgi (Tucker), a pending divorce, and a bad habit of reading postcards not addressed to her. When Crozet's citizens start turning up murdered, Harry remembers that each received a card with a tombstone on the front and the message "Wish you were here" on the back. Intent on protecting their human friend, Mrs. Murphy and Tucker begin to scent out clues. Meanwhile, Harry is conducting her own investigation, unaware her pets are one step ahead of her. If only Mrs. Murphy could alert her somehow, Harry could uncover the culprit before the murder occurs--and before Harry finds herself on the killer's mailing list.

Rita Mae Brown versucht sich im vorliegenden Roman als Krimi-Autorin. Mary Minor "Harry" Harristeen, Leiterin der Poststelle in Crozet, einer Kleinstadt in Virginia, kann es nicht lassen, die eingehenden Postkarten vor der Weitergabe an die rechtmäßigen Empfänger selbst zu lesen. Diese recht ehrenrührige Leidenschaft ist es allerdings, die Harry schließlich zum Detektiv werden läßt. Denn kaum hat Kelly Craycroft, seines Zeichens erfolgreicher Geschäftsmann in Crozet, eine Karte mit dem Bild eines steinernen Grabengels und dem verheißungsvollen Text, "Schade, daß du nicht hier bist", erhalten, wird er tot aus einem Zementmischer gezogen.
Produktinformation
---
Verlag: Bantam Books
1991
1991.
Ausstattung/Bilder: 320 S. 10 LINE ILLUSTRATIONS. 6.9 in
Seitenzahl: 320
Englisch
Abmessung: 175mm x 106mm x 25mm
Gewicht: 150g
ISBN-13: 9780553287530
ISBN-10: 0553287532
Best.Nr.: 06119788
"It should delight cat fancier. . .sassy, silly, and plenty of fun."-- The Baltimore Sun
Rita Mae Brown, geboren in Hanover, Pennsylvania, wuchs in Florida auf. Sie studierte in New York Anglistik und Filmwissenschaft. Berühmt wurde sie mit 'Rubinroter Dschungel' und durch ihre Romane mit der Tigerkatze Sneaky Pie Brown als Co-Autorin. Sie lebt als Schriftstellerin und Drehbuchautorin auf einer Farm in Charlottesville.
---
1

Mary Minor Haristeen, Harry to her friends, trotted along the railroad track. Following at her heels were Mrs. Murphy, her wise and willful tiger cat, and Tee Tucker, her Welsh corgi. Had you asked the cat and the dog they would have told you that Harry belonged to them, not vice versa, but there was no doubt that Harry belonged to the little town of Crozet, Virginia. At thirty-three she was the youngest postmistress Crozet had ever had, but then no one else really wanted the job.

Crozet nestles in the haunches of the Blue Ridge Mountains. The town proper consists of Railroad Avenue, which parallels the Chesapeake & Ohio Railroad track, and a street intersecting it called the Whitehall Road. Ten miles to the east reposes the rich and powerful small city of Charlottesville, which, like a golden fungus, is spreading east, west, north, and south. Harry liked Charlottesville just fine. It was the developers she didn't much like, and she prayed nightly they'd continue to think of Crozet and its three thousand inhabitants as a dinky little whistle stop on the route west and ignore it.

A gray clapboard building with white trim, next to the rail depot, housed the post office. Next to that was a tiny grocery store and a butcher shop run by "Market" Shiflett. Everyone appreciated this convenience because you could pick up your milk, mail, and gossip in one central location.

Harry unlocked the door and stepped inside just as the huge railroad clock chimed seven beats for 7:00 a.m. Mrs. Murphy scooted under her feet and Tucker entered at a more leisurely pace.

An empty mail bin invited Mrs. Murphy. She hopped in. Tucker complained that she couldn't jump in.

"Tucker, hush. Mrs. Murphy will be out in a minute--won't you?" Harry leaned over the bin.

Mrs. Murphy stared right back up at her and said, "Fat chance. Let Tucker bitch. She stole my catnip sockie this morning."

All Harry heard was a meow.

The corgi heard every word. "You're a real shit, Mrs. Murphy. You've got a million of those socks."

Mrs. Murphy put her paws on the edge of the bin and peeped over. "So what. I didn't say you could play with any of them."

"Stop that, Tucker." Harry thought the dog was growling for no reason at all.

A horn beeped outside. Rob Collier, driving the huge mail truck, was delivering the morning mail. He'd return at four that afternoon for pickup.

"You're early," Harry called to him.

"Figured I'd cut you a break." Rob smiled. "Because in exactly one hour Mrs. Hogendobber will be standing outside this door huffing and puffing for her mail." He dumped two big duffel bags on the front step and went back to the truck. Harry carried them inside.

"Hey, I'd have done that for you."

"I know," Harry said. "I need the exercise."

Tucker appeared in the doorway.

"Hello, Tucker," Rob greeted the dog. Tucker wagged her tail. "Well, neither rain nor sleet nor snow, et cetera." Rob slid behind the wheel.

"It's seventy-nine degrees at seven, Rob. I wouldn't worry about the sleet if I were you."

He smiled and drove off.

Harry opened the first bag. Mrs. Hogendobber's mail was on the top, neatly bound with a thick rubber band. Rob, if he had the time, put Mrs. Hogendobber's mail in a pile down at the main post office in Charlottesville. Harry slipped the handful of mail into the mail slot. She then began sorting through the rest of the stuff: bills, enough mail-order catalogues to provide clothing for every man, woman, and child in the United States, and of course personal letters and postcards.

Courtney Shiflett, Market's fourteen-year-old daughter, received a postcard from Sally McIntire, away at camp. Kelly Craycroft, the handsome, rich paving contractor, was the recipient of a shiny postcard from Paris. It was a photo of a beautiful angel with wings. Harry flipped it over. It was Oscar Wilde's tombstone in the Pie
5 Marktplatz-Angebote für "Wish you were here" ab EUR 2,45
Zustand
Preis
Porto
Zahlung
Verkäufer
Rating
leichte Gebrauchsspuren
2,45
1,65
sofortueberweisung.de, Selbstabholung und Barzahlung, PayPal, Banküberweisung
Versandantiquariat Schlüsselburg
99,7%
ansehen
leichte Gebrauchsspuren
2,55
0,00
PayPal, offene Rechnung, Banküberweisung
Mein Buchshop
99,7%
ansehen
4,00
1,70
offene Rechnung (Vorkasse vorbehalten), PayPal, Banküberweisung
Libresso Antiquariat, Einzelunternehmen
100,0%
ansehen
4,00
2,00
offene Rechnung (Vorkasse vorbehalten), Banküberweisung
Antiquariat Wolfgang Rüger
99,4%
ansehen
2-3
5,81
0,00
Banküberweisung
Mondevana.de
100,0%
ansehen