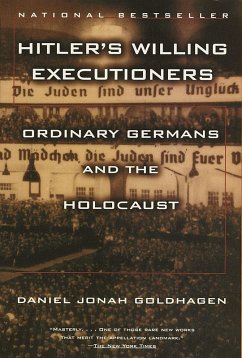 Hitler's Willing Executioners
Ordinary Germans and the Holocaust
Broschiertes Buch
Sprache: Englisch
versandkostenfrei

innerhalb Deutschlands

Bisher EUR 14,95*

EUR 13,95

Sofort lieferbar

Alle Preise inkl. MwSt.
*Früherer Preis

-7 %
Andere Kunden interessierten sich auch für
Hitler's Willing Executioners
This groundbreaking international bestseller lays to rest many myths about the Holocaust: that Germans were ignorant of the mass destruction of Jews, that the killers were all SS men, and that those who slaughtered Jews did so reluctantly. Hitler's Willing Executioners provides conclusive evidence that the extermination of European Jewry engaged the energies and enthusiasm of tens of thousands of ordinary Germans. Goldhagen reconstructs the climate of "eliminationist anti-Semitism" that made Hitler's pursuit of his genocidal goals possible and the radical persecution of the Jews during the 1930s popular. Drawing on a wealth of unused archival materials, principally the testimony of the killers themselves, Goldhagen takes us into the killing fields where Germans voluntarily hunted Jews like animals, tortured them wantonly, and then posed cheerfully for snapshots with their victims. From mobile killing units, to the camps, to the death marches, Goldhagen shows how ordinary Germans, nurtured in a society where Jews were seen as unalterable evil and dangerous, willingly followed their beliefs to their logical conclusion.

"Hitler's Willing Executioner's is an original, indeed brilliant contribution to the...literature on the Holocaust."--New York Review of Books

"The most important book ever published about the Holocaust...Eloquently written, meticulously documented, impassioned...A model of moral and scholarly integrity."--Philadelphia Inquirer

Mitglieder eines deutschen Fronttheaters, 1942 zu Gast bei einem Polizeibataillon in Polen, äußerten den Wunsch, an einer Massenerschießung von Juden teilnehmen zu dürfen. Die Bitte wurde ihnen gewährt. - Wie konnte es zum Holocaust kommen? Diese Frage wurde oft diskutiert. Doch wer waren die Täter, und wie war es möglich, so viele Deutsche aus allen sozialen Schichten für den Holocaust zu mobilisieren? Was hat sie dazu motiviert, sich an der Massenvernichtung zu beteiligen, auch, wenn die Möglichkeit einer Befehlsverweigerung bestand? Wie sah die Gesellschaft aus, die diese Männer und Frauen hervorbrachte? Diesen Fragen geht der amerikanische Historiker Goldhagen in seinem heftig und kontrovers diskutierten Buch nach.
Produktinformation
---
Verlag: Vintage, New York
1997
1997.
Ausstattung/Bilder: 656 S. 33 B&W PHOTOS AND 8 MAPS. 7.98 in
Englisch
Abmessung: 204mm x 131mm x 31mm
Gewicht: 606g
ISBN-13: 9780679772682
ISBN-10: 0679772685
Best.Nr.: 06886528
| | |
| --- | --- |
| | Besprechung von 15.04.1996 |
---
Hitlers Code
Holocaust aus faustischem Streben? Daniel John Goldhagens Remythisierung der Deutschen

Schon werden Pirouetten gedreht und neue Kämpfe ausgerufen, schon geht es darum, wer wen und wie ins Gespräch bringt. Elie Wiesel spricht von "unwiderleglichen Beweisen", und eine deutsche Zeitung wähnt einen neuen Historikerstreit. Aber das Buch, um das es hier geht, liegt bisher nur auf englisch vor, und die Wirkung seiner in drei Monaten erscheinenden deutschen Übersetzung bleibt abzuwarten. Der junge amerikanische Historiker Daniel John Goldhagen hat eine Dissertation mit dem Titel "Hitlers willige Vollstrecker" ("Hitler's willing executioners") geschrieben, die in Amerika zu Bewunderung und zu heftigen Kontroversen geführt hat und nun auch in Deutschland Streit und Bekenntniseifer auslöst. Das liegt nicht an der Komplexität des Buches, sondern vielmehr an der radikalen Einfachheit, mit der der Autor seine Thesen vorträgt.

Goldhagen glaubt, daß es eine tief in der Geschichte verankerte, spezifisch deutsche Form des Antisemitismus gibt, die in ihren Voraussetzungen und Zielen von allen anderen europäischen Antisemitismen abweiche. …


Daniel Jonah Goldhagen unterrichtete viele Jahre Politologie in Harvard, bis er sich entschloss, sich ausschließlich der Forschung und dem Schreiben von Büchern zu widmen. Goldhagen ist Mitglied des Minda de Gunzburg Center for European Studies in Harvard.
---
1

RECASTING THE VIEW OF ANTISEMITISM: A FRAMEWORK FOR ANALYSIS

In thinking about German antisemitism, people have a tendency to make important, unacknowledged assumptions about Germans before and during the Nazi period that bear scrutiny and revision. The assumptions are ones that people would not adopt for investigating a preliterate group in Asia or fourteenth-century Germans, yet which they do for the study of nineteenth- and twentieth-century Germany. They can be summed up as follows: Germans were more or less like us or, rather, similar to how we represent ourselves to be: rational, sober children of the Enlightenment, who are not governed by "magical thinking," but rooted in "objective reality." They, like us, were "economic men" who, admittedly, sometimes could be moved by irrational motives, by hatreds, produced by economic frustrations or by some of the enduring human vices like the lust for power or pride. But these are all understandable; as common sources of irrationality, they seem commonsensical to us.

There are reasons to doubt the validity of such assumptions, as an American educator intimately familiar with Nazi schools and youth cautioned in 1941. Nazi schooling, he averred, "produced a generation of human beings in Nazi Germany so different from normal American youth that mere academic comparison seems inane and any sort of evaluation of the Nazi educational system is extremely difficult." So what justifies the prevailing assumptions about the similarity between us and Germans during the Nazi period and before? Should we not take a fresh look and examine whether or not our notions of ourselves held for Germans in 1890, 1925, and 1941? We readily accept that preliterate peoples have believed trees to be animated by good and evil spirits, capable of transforming the material world, that the Aztecs believed human sacrifices were necessary for the sun to rise, that in the middle ages Jews were seen as agents of the Devil, so why can we not believe that many Germans in the twentieth century subscribed to beliefs that appear to us to be palpably absurd, that Germans too were, at least in one realm, prone to "magical thinking"?

Why not approach Germany as an anthropologist would the world of a people about whom little is known? After all, this was a society that produced a cataclysm, the Holocaust, which people did not predict or, with rare exceptions, ever imagine to have been possible. The Holocaust was a radical break with everything known in human history, with all previous forms of political practice. It constituted a set of actions, and an imaginative orientation that was completely at odds with the intellectual foundations of modern western civilization, the Enlightenment, as well as the Christian and secular ethical and behavioral norms that had governed modern western societies. It appears, then, on the face of it, that the study of the society which produced this then unimagined, and unimaginable, event requires us to question our assumptions about that society's similarity to our own. It demands that we examine our belief that it shared the rational economic orientation that guides social scientific and popular images of our society. Such an examination would reveal that much of Germany did roughly mirror our society, but that important realms of German society were fundamentally different. Indeed, the corpus of German antisemitic literature in the nineteenth and twentieth centuries-with its wild and hallucinatory accounts of the nature of Jews, their virtually limitless power, and their responsibility for nearly every harm that has befallen the world-is so divorced from reality that anyone reading it would be hard pressed to conclude that it was anything but the product of the collective scribes of an insane asylum. No aspect of Germany is in greater need of this sort of anthropological reevaluation than is its people's antise
3 Marktplatz-Angebote für "Hitler's Willing Executioners" ab EUR 3,00
Zustand
Preis
Porto
Zahlung
Verkäufer
Rating
leichte Gebrauchsspuren
3,00
2,00
Banküberweisung
Ambober21
100,0%
ansehen
gebraucht; gut
3,00
2,55
Selbstabholung und Barzahlung, PayPal, offene Rechnung, Banküberweisung, offene Rechnung (Vorkasse vorbehalten)
Berliner Buechertisch e.G. Preis inkl. M
100,0%
ansehen
gebraucht; gut
4,00
2,60
PayPal, offene Rechnung
Bücherhof
99,3%
ansehen