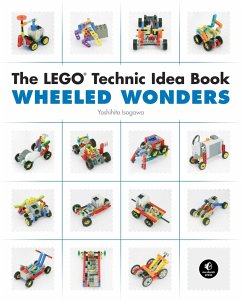 The LEGO® Technic Idea Book
Wheeled Wonders
Broschiertes Buch
Sprache: Englisch
versandkostenfrei

innerhalb Deutschlands

Bisher EUR 14,95*

EUR 13,95

Sofort lieferbar

Alle Preise inkl. MwSt.
*Früherer Preis

-7 %
Andere Kunden interessierten sich auch für
The LEGO® Technic Idea Book
The LEGO Technic Idea Book: Wheeled Wonders is a collection of hundreds of ideas for building cars, trucks, motorcycles, and other vehicles. The models are easy to build based on their pictures alone, and colors distinguish each part, showing you how they're assembled. Each photo illustrates a different principle, concept, or mechanism that will inspire your own original creations. The Technic models in Wheeled Machines spin or move things, drag race, haul heavy gear, bump off walls, wind up and go, and much more. You'll discover how to build differential gears, implement steering and suspension, and design clutch and transmission systems to use in your own vehicles. This visual guide, the second in the three-volume LEGO Technic Idea Book series, is the brainchild of master builder Yoshihito Isogawa of Tokyo, Japan. Each title is filled with photos of Isogawa's unique models, all of which are designed to fire the imaginations of LEGO builders young and old. Image. Create. Invent. Now, what will you build? Visit http://nostarch.com/technic/ to view videos of many of this book's projects and to join the discussion!

LEGO TECHNIC is designed to allow builders to create more advanced models with moving parts, like those built with LEGO MINDSTORMS. The Unofficial LEGO TECHNIC Idea Book: Vehicles offers hundreds of ideas and examples for building mechanisms with TECHNIC. This volume focuses on vehicles that can drive, turn, move things, and go backwards. The book is color throughout, with little to no text accompany-ing its diagrams. The book's illustrations demonstrate various ways to build TECHNIC vehicles, which readers use as starting points for their own creations. Vehicles begins by teaching readers about tires, rotation speed, and how to build a simple car with a motor, then demonstrates more complex actions, like how to use differential gears; make a car turn or move items; add car suspension with rubber bands or springs; and go backwards and forwards and switch rotational directions. The Unofficial LEGO TECHNIC Idea Books are for anyone who wants to create a moving masterpiece, as well as those who want to make original robots with MINDSTORMS. It can also be used to demonstrate how machines work and to experience the fun of mechanics.
Produktinformation
---
Vol.2
Verlag: No Starch Press
2010
Ausstattung/Bilder: 2010. VII, 131 p. w. numerous col. figs. 254 mm
Englisch
Abmessung: 256mm x 207mm x 13mm
Gewicht: 470g
ISBN-13: 9781593272784
ISBN-10: 1593272782
Best.Nr.: 29729625
Yoshihito Isogawa is a LEGO luminary with 42 years of experience. He began writing computer manuals while at the Tokyo University of Science and founded Isogawa Studio, Inc. soon after. He has twice won the grand prize in the Japan Manual Contest held by the Japan Technical Communicators Association and he has won outstanding performance awards many times. He currently lives in Tokyo.