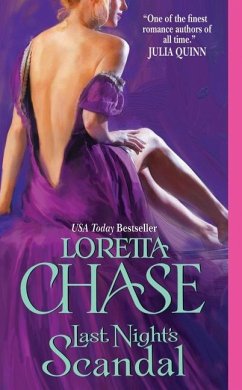 Last Night's Scandal
Broschiertes Buch
Sprache: Englisch
versandkostenfrei

innerhalb Deutschlands

Sofort lieferbar

Alle Preise inkl. MwSt.
Andere Kunden interessierten sich auch für
Last Night's Scandal
After years of living dangerously in Egypt, there is nothing in London to interest Peregrine Dalmay, Earl of Lisle-well, except for one dramatic and devious redhead--the same one who years ago inadvertently helped him find his calling. What he wants is to return to pyramids, tombs, mummies, papyri, and villains. What he doesn t want is to get entangled again with the redhead who s turned into a voluptuous armful with an exasperating ability to unhinge him. Olivia Wingate-Carsington is trouble--and born that way, a descendant of the Dreadful DeLuceys, notorious swindlers and bigamists. Though her family s done its best to civilize her, she can t seem to settle down with even the most dashing of aristocratic husbands-to-be. She s on her third engagement when Lord Lisle returns. So what if he s tall and gorgeous and temptingly untamable? So what if he s the only man who can make her heart go thumpety-thump? He doesn t have a romantic bone in his body. Worse, he can see right through her and says so. He couldn t be more wrong for her. But when the oh-so-wrong-for-each-other pair ends up on a 400-mile journey with a gaggle of elderly ladies in tow, to take on a gloomy Scottish castle haunted by spiteful ghosts and murderous villains-they may just realize the scariest thing of all is that they re made for each other.
Produktinformation
---
Abmessung: 169mm x 107mm x 33mm
Gewicht: 188g
ISBN-13: 9780061632679
ISBN-10: 0061632678
Best.Nr.: 29503923
Loretta Chase wuchs in Neu-England auf und studierte Literatur an der berühmten Clark University. Nach ihrem Studium nahm sie viele, viele Aushilfsjobs an, bis sie auf einen Filmproduzenten traf. Er überredete sie erst dazu, sich dem Schreiben zu widmen, und dann, ihn zu heiraten. Das Ergebnis? Zahlreiche Bestseller und eine glückliche Ehe.