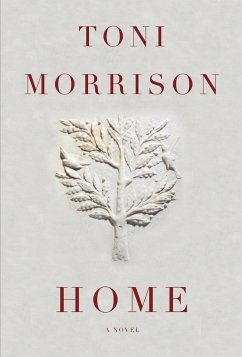 Home
Gebundenes Buch
Sprache: Englisch
versandkostenfrei

innerhalb Deutschlands

EUR 14,95

Sofort lieferbar

Alle Preise inkl. MwSt.
Andere Kunden interessierten sich auch für
Home
Ein zutiefst bewegender Roman über einen scheinbar besiegten Mann, der am Ende zu seiner Männlichkeit und Heimat findet. Toni Morrison zählt zu einer der bedeutendsten Vertreterin der afroamerikanischen Literatur und erhielt 1993 den Literaturnobelpreis für ihr Gesamtwerk.

America's most celebrated novelist, Nobel Prize-winner Toni Morrison extends her profound take on our history with this twentieth-century tale of redemption: a taut and tortured story about one man's desperate search for himself in a world disfigured by war.
Frank Money is an angry, self-loathing veteran of the Korean War who, after traumatic experiences on the front lines, finds himself back in racist America with more than just physical scars. His home may seem alien to him, but he is shocked out of his crippling apathy by the need to rescue his medically abused younger sister and take her back to the small Georgia town they come from and that he's hated all his life. As Frank revisits his memories from childhood and the war that have left him questioning his sense of self, he discovers a profound courage he had thought he could never possess again.
A deeply moving novel about an apparently defeated man finding his manhood - and his home.

Produktinformation
---
Abmessung: 206mm x 150mm x 25mm
Gewicht: 325g
ISBN-13: 9780307594167
ISBN-10: 0307594165
Best.Nr.: 34388503
| | |
| --- | --- |
| | Besprechung von 08.03.2014 |
---
Sogar die Schatten lügen

Die Literaturnobelpreisträgerin Toni Morrison erzählt in "Heimkehr" von einem schwarzen Geschwisterpaar, das unfreiwillig ein Verbrechen beobachtet hat.

Von Hubert Spiegel

Toni Morrison, Amerikas Literaturnobelpreisträgerin und der Stachel, den Stockholm ins Fleisch ihrer weißen Schriftstellerkollegen wie John Updike und Philip Roth gepflanzt hat, erzählt in ihren Romanen von den Dämonen, von denen das schwarze Amerika gejagt wird: Sklaverei, Diskriminierung, Armut, Hass und Gewalt. Ihre Hauptfiguren sind überwiegend weiblich, Morrisons Poetik ist feministisch, emanzipatorisch und höchst allergisch gegen jede Art von Vereinnahmung: "Schwarze haben keine Nationalität in diesem Land. Wir sind Staatsbürger und Schwarze. Ich bin keine amerikanische Schriftstellerin."

Es war daher kaum zu erwarten, dass die Autorin einen Kriegsheimkehrer zum Erzähler und zur Hauptfigur ihres jüngsten Romans machen würde. Aber Frank Money, der traumatisiert aus Korea zurückkehrt, ist beides nur auf den ersten Blick. In "Heimkehr" erzählt Toni Morrison zwar Franks Geschichte, aber im Grunde ist der junge Veteran für die …


---
| | |
| --- | --- |
| | Besprechung von 11.03.2014 |
---
Reise ins Licht
Mit dem vielschichtigen Geschwister-Märchen "Heimkehr" schreibt Toni Morrison
ihre Geschichte des schwarzen Amerika virtuos fort
VON ULRICH BARON
Mit der Heimkehr des traumatisierten Korea-Veteranen Frank Money hat Toni Morrison ihre 1993 mit dem Literaturnobelpreis ausgezeichnete Comédie humaine des afroamerikanischen Amerika um ein weiteres Kapitel bereichert. Aus einer "integrierten" Armee entlassen, reist Frank durch ein Land der Segregation mit getrennten Hotels, Restaurants und Waschräumen. Er hatte nicht nach Lotus, Georgia, zurückkehren wollen. Nicht ohne Freunde, deren zerfetzte Körper ihn in seinen Albträumen verfolgen. Und nicht nach dem, was mit dem kleinen koreanischen Mädchen geschehen war. Erst die Nachricht, dass seine Schwester Cee sich in Lebensgefahr befinde, hat ihn auf den Weg gebracht: "Komm schnell. Sie wird tot sein, wenn du trödelst."
  Eine Heimat war Lotus für beide nie gewesen. Die Moneys hatten in Texas gelebt, bis Männer, "von denen manche Kapuzen trugen und andere nicht", sie von Haus und Hof jagten. Cee war unterwegs zur Welt gekommen. Für ihre Stiefgroßmutter Leonore, deren …


---
"Perhaps Morrison's most lyrical performance so far." - Christopher Benfey, The New York Review of Books

"Morrison writes about psychological violence with an engineer's precision and a poet's expansiveness." - Tyrone Beason, The Seattle Times

"Morrison packs a powerful narrative punch. . . . [Her] depiction of the delightful ways black men engage in verbal banter to exchange personal and collective memories, and the poignant ways black women stand on their faith to deploy survival strategies only they could design, makes this a novel that begs rereading. She movingly describes people who survive and thrive, even when life deals them painful, mean blows. . . . [T]he beauty of Morrison's language and her profound truths about life and living compel one to run the page and keep reading. This 10th novel shows that the author is still questioning what we think we know when we think we know someone." - Marilyn Sanders Mobley, Ms. Magazine

" Home showcases a writer at the height of her powers in evoking a moment and its historical counter-currents. And it ranks among [Morrison's] most readable stories. It is also, like so many of her novels, a book certain to reward rereading: you can go Home again. And you should." - Jim Cullen, History News Network

"Gorgeous and intense, brutal yet heartwarming . . . like a slingshot that wields the impact of a missile. . . . Home is as accessible, tightly composed and visceral as anything Morrison has written. . . . [Her] shorter, more direct sentences have the capacity to leave a reader awestruck. . . . Devastating, deeply humane, ever-relevant." - Heller McAlpin, NPR

"The story of the warrior's struggle to return home is classic, but Nobel laureate Morrison imbues her tale with twists that make the journey more challenging and Frank Money's success less certain. . . . As usual, Morrison's writing is both lyrical and earthy and, although spare, dense with hints and meaning. This is a book that can be read in one long sitting, and probably will be . . . [A] satisfying, emotional . . . textured, painful and ultimately uplifting story." - Anne Neville, Buffalo News

"In this slim, scathing novel, Morrison brings us another quintessentially American character struggling through another shameful moment in our nation's history. . . . Home is as much prose poem as long-form fiction - a triumph for a beloved literary icon who proves that her talents remain in full flower. Four stars." - Meredith Maran, People

"Beautifully wrought . . . [ Home ] packs considerable power, because the Nobel Prize-winning author is still writing unflinchingly about the most painful human experiences. There's nothing small about the story she's told with such grace in these pages." - Steve Yarbrough, The Oregonian

"Short, swift, and luminescent . . . The music of Morrison's language, with its poetic oral qualities, its ability to be both past and present in one long line, requires a robust structure, a big space; a small auditorium simply does not suit it. Home , then, is . . . a remarkable thing: proof that Morrison is at once America's most deliberate and flexible writer. She has almost entirely retooled her style to tell a story that demands speed, brevity, the threat of a looming curtain call." - John Freeman, The Boston Globe

"Part of Morrison's longstanding greatness resides in her ability to animate specific stories about the black experience and simultaneously speak to all experience. It's precisely by committing unreservedly to the first that she's able to transcend the circumscribed audience it might imply. This work's accomplishment lies in its considerable capacity to make us feel that we are each not only resident but co-owner of, and collectively accountable for, this land we call home." - Leah Hager Cohen, The New York Times Book Review

"Powerful . . . Home , the latest novel by Toni Morrison, is almost eerie in its timeliness. Set in the 1950s, it does not evoke the martini
Die amerikanische Schriftstellerin Toni Morrison wurde am 18. Februar 1931 in Lorain, Ohio als zweites von vier Kindern eines schwarzen Arbeiterehepaares geboren. Nach dem Besuch örtlicher Schulen 1949 Beginn des Studiums an der Howard University in Washington, DC. Erste Erfahrungen mit dem Südstaaten-Rassismus während einer Tournee als Mitglied der Universitätstheatergruppe. Ab 1953 Anglistikstudium an der renommierten Cornell University bis zum Magisterabschluss 1955. Lehrtätigkeit, zunächst an der Texas Southern University (1955-1957), danach an der Howard University (1957-1964). Ehe mit dem jamaikanischen Architekten Harold Morrison, aus der zwei Söhne hervorgehen. Nach der Scheidung 1964 Rückkehr nach Lorain. 1965 Umzug nach New York und Lektorentätigkeit.
In ihren Werken beschreibt sie unter anderem die Rassenprobleme in ihrer Heimat sowie die zwischenmenschlichen Beziehungen innerhalb der schwarzen Bevölkerung. Ausgezeichnet mit dem Pulitzer-Preis (1988) und dem Literatur-Nobelpreis (1993) gehört sie zu den bedeutendsten Vertretern der afroamerikanischen Literatur.
ONE

They rose up like men. We saw them. Like men they stood.

We shouldn't have been anywhere near that place. Like most farmland outside Lotus, Georgia, this here one had plenty scary warning signs. The threats hung from wire mesh fences with wooden stakes every fifty or so feet. But when we saw a crawl space that some animal had dug - a coyote maybe, or a coon dog - we couldn't resist. Just kids we were. The grass was shoulder high for her and waist high for me so, looking out for snakes, we crawled through it on our bellies. The reward was worth the harm grass juice and clouds of gnats did to our eyes, because there right in front of us, about fifty yards off, they stood like men. Their raised hooves crashing and striking, their manes tossing back from wild white eyes. They bit each other like dogs but when they stood, reared up on their hind legs, their forelegs around the withers of the other, we held our breath in wonder. One was rust-colored, the other deep black, both sunny with sweat. The neighs were not as frightening as the silence following a kick of hind legs into the lifted lips of the opponent. Nearby, colts and mares, indifferent, nibbled grass or looked away. Then it stopped. The rust-colored one dropped his head and pawed the ground while the winner loped off in an arc, nudging the mares before him.

As we elbowed back through the grass looking for the dug-out place, avoiding the line of parked trucks beyond, we lost our way. Although it took forever to re-sight the fence, neither of us panicked until we heard voices, urgent but low. I grabbed her arm and put a finger to my lips. Never lifting our heads, just peeping through the grass, we saw them pull a body from a wheelbarrow and throw it into a hole already waiting. One foot stuck up over the edge and quivered, as though it could get out, as though with a little effort it could break through the dirt being shoveled in. We could not see the faces of the men doing the burying, only their trousers; but we saw the edge of a spade drive the jerking foot down to join the rest of itself. When she saw that black foot with its creamy pink and mud-streaked sole being whacked into the grave, her whole body began to shake. I hugged her shoulders tight and tried to pull her trembling into my own bones because, as a brother four years older, I thought I could handle it. The men were long gone and the moon was a cantaloupe by the time we felt safe enough to disturb even one blade of grass and move on our stomachs, searching for the scooped-out part under the fence. When we got home we expected to be whipped or at least scolded for staying out so late, but the grown-ups did not notice us. Some disturbance had their attention.

Since you're set on telling my story, whatever you think and whatever you write down, know this: I really forgot about the burial. I only remembered the horses. They were so beautiful. So brutal. And they stood like men.