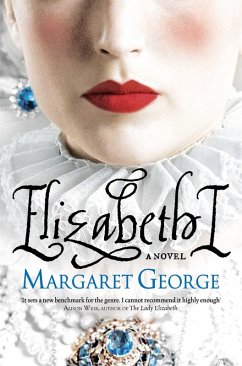 Elizabeth I
A Novel
Broschiertes Buch
Sprache: Englisch
versandkostenfrei

innerhalb Deutschlands

Sofort lieferbar

Alle Preise inkl. MwSt.
Andere Kunden interessierten sich auch für
Elizabeth I
1588. Queen Elizabeth ist auf der Höhe ihrer Macht. Sie ist die jungfräuliche Königin mit zahllosen Verehrern, erfolgreiche Kriegsherrin, die den Krieg verabscheut, mit Juwelen bedeckt und doch jeden Pfennig umdrehend. Eine Frau voller Widersprüche und vieler Feinde. Eine ihrer größten Rivalinnen ist ihre eigene Cousine, die den Anspruch auf den Thron für sich und ihre Familie sichern will. Ihre Rivalität wird jeden am Hof beeinflussen, von den Höflingen bis zu den Poeten.

One of today's premier historical novelists, Margaret George dazzles here as she tackles her most difficult subject yet: the legendary Elizabeth Tudor, queen of enigma-the Virgin Queen who had many suitors, the victor of the Armada who hated war; the gorgeously attired, jewel- bedecked woman who pinched pennies. England's greatest monarch has baffled and intrigued the world for centuries. But what was she really like?
In this novel, her flame-haired, lookalike cousin, Lettice Knollys, thinks she knows all too well. Elizabeth's rival for the love of Robert Dudley, Earl of Leicester, and mother to the Earl of Essex, the mercurial nobleman who challenged Elizabeth's throne, Lettice had been intertwined with Elizabeth since childhood. This is a story of two women of fierce intellect and desire, one trying to protect her country, and throne, the other trying to regain power and position for her family and each vying to convince the reader of her own private vision of the truth about Elizabeth's character. Their gripping drama is acted out at the height of the flowering of the Elizabethan age. Shakespeare, Marlowe, Dudley, Raleigh, Drake-all of them swirl through these pages as they swirled through the court and on the high seas.
This is a magnificent, stay-up-all-night page-turner that is George's finest and most compelling novel and one that is sure to please readers of Alison Weir, Philippa Gregory, and Hilary Mantel.
Produktinformation
---
Verlag: Pan Macmillan
2012
Ausstattung/Bilder: 2012. 671 p.
Seitenzahl: 671
Englisch
Abmessung: 201mm x 136mm x 45mm
Gewicht: 490g
ISBN-13: 9780330537124
ISBN-10: 0330537121
Best.Nr.: 34146942
.".. impressive detail and a wonderfully evocative setting ..." -"The Boston Globe" " ... in "Elizabeth I" Margaret George, a Wisconsin native and bestselling author, has found a way to refresh Elizabeth's story, breathing new life into this iconic historical figure ..." -(Milwaukee) "Journal Sentinel" "By carefully blending the rich historical detail that is available with her own equally rich imagination, George presents a fascinating portrait of a smart, brave and politically savvy leader who was nevertheless also human and emotional ...George creates such a compelling portrait of the monarch as she immerses us in court life that, when the book ends, it is hard not to feel a sense of loss." -(Fort Worth) "Star-Telegram"
Margaret George is the author of several best-selling novels, including The Autobiography of Henry VIII, Mary Queen of Scotland & the Isles, and Mary, Called Magdalene. She travels widely to research her novels and lives with her husband in Madison, Wisconsin.
2 Marktplatz-Angebote für "Elizabeth I" ab EUR 4,50