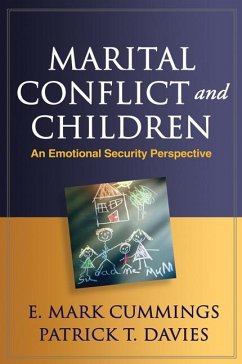 Marital Conflict and Children
Broschiertes Buch
Sprache:
versandkostenfrei

innerhalb Deutschlands

EUR 32,95

Versandfertig in über 4 Wochen

Alle Preise inkl. MwSt.
Andere Kunden interessierten sich auch für
Marital Conflict and Children
From leading researchers, this book presents important advances in understanding how growing up in a discordant family affects child adjustment, the factors that make certain children more vulnerable than others, and what can be done to help. It is a state-of-the-science follow-up to the authors seminal earlier work, Children and Marital Conflict: The Impact of Family Dispute and Resolution. The volume presents a new conceptual framework that draws on current knowledge about family processes; parenting; attachment; and childrens emotional, physiological, cognitive, and behavioral development. Innovative research methods are explained and promising directions for clinical practice with children and families are discussed.
Produktinformation
---
Verlag: Guilford Publications
2011
Ausstattung/Bilder: black & white illustrations, black & white tables, figures
Seitenzahl: 320
Abmessung: 154mm x 230mm x 19mm
Gewicht: 470g
ISBN-13: 9781462503292
ISBN-10: 1462503292
Best.Nr.: 33936130
"This informative, well-written, and engaging work explicates the theoretical foundations of emotional security, reviews research on the topic, and presents new findings. The authors' analysis should be taken seriously by all concerned with the well-being of children and families." - Jay Belsky, Birkbeck University of London, UK "Cummings and Davies have done it again! This is a superb book, combining years of programmatic research with keen insights and a constant eye toward practical applications for practitioners and the parents they work with. Marital Conflict and Children is 'must' reading for researchers and practitioners in psychology, family therapy, and associated disciplines, as well as a great text for upper-division undergraduate and graduate classes." - Robert E. Emery, University of Virginia, USA
E. Mark Cummings, PhD, Department of Psychology, University of Notre Dame, Indiana, USA and Patrick T. Davies, PhD, Department of Clinical and Social Sciences in Psychology, University of Rochester, New York, USA
Part I: New Directions in the Study of Children and Marital Conflict. Marital Conflict and Risky Families. The Emergence of Process
oriented Approaches: Emotional Security Theory. Part II: Child Effects of Exposure to Marital Conflict. Identifying Constructive and Destructive Marital Conflict. Testing Process
oriented Models of the Direct Effects of Exposure to Marital Conflict. Part III: Contextualizing Marital Conflict. The Role of Parenting in the Context of Marital Conflict: Indirect Pathways and Processes. Contextual Vulnerability and Protective Models. Development Over Time in Contexts of Marital Conflict. Part IV: Future Directions. Applications of Findings and Translational Research. Beyond the Marital Dyad: From Bowlby to Political Violence. Appendices: Coding Systems and Methodology. Appendix A: Conflict in the Interparental System (CIS)
observational Coding. Appendix B: Security in the Interparental Subsystem (SIS) Scale
child Report. Appensix C: Security in the Marital System
parent Report (SIMS
PR) Scale. Appendix D: Advanced Measurement and Research Design Issues for a Process
oriented Approach.