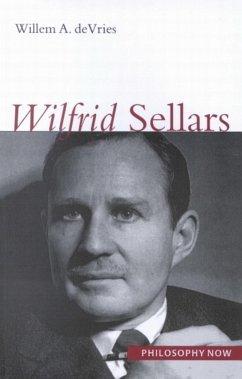 Wilfrid Sellars
Broschiertes Buch
Sprache: Englisch
versandkostenfrei

innerhalb Deutschlands

Versandfertig in über 4 Wochen

Alle Preise inkl. MwSt.
Andere Kunden interessierten sich auch für
Wilfrid Sellars
Wilfrid Sellars (1912-1989) has been called the most profound and systematic epistemological thinker of the twentieth century. Many of his ideas have become widely acknowledged, including his attack on the "myth of the given," his functionalist treatment of intentional states, his proposal that psychological concepts are like theoretical concepts, and his suggestion that attributions of knowledge locate the knower "in the logical space of reasons." Notoriously difficult to understand, Sellars' essays are not only complex but were never situated within a unified exposition of his thought.. Willem deVries addresses these difficulties and provides a careful reading and remarkable overview of Sellars' systematic philosophy. This clear, comprehensive, and authoritative work will become the standard point of reference for all philosophers seeking to understand Sellars's hugely significant body of work.
Produktinformation
---
Gewicht: 422g
ISBN-13: 9780773530515
ISBN-10: 0773530517
Best.Nr.: 21799170
"It would have been impossible for Willem deVries to leave everyone who grapples with Sellars happy with everything in his book. But within the limits of what is offered only as an introduction, he has done an extraordinarily good job of explaining this major thinker." - John McDowell, TLS "A hugely valuable gift to philosophy. It accurately and clearly summarizes the work of perhaps the most difficult major twentieth-century figure in philosophy, and in a way that makes his hugely important contributions accessible to all. It is far and away the most accurate and accessible commentary that we now have on Sellars." - Ruth Millikan, University of Connecticut "thoughtful, reliable, and appropriately comprehensive in scope." - Robert Brandom "The task of writing an effective critical study of Sellar's philosophy is unquestionably a daunting one. DeVries has risen admirably to the occasion. His book is clearly written, comprehensive in its scope, and presents an admirably accurate and sensitive picture of Sellars's philosophical convictions and contributions." - Jay F. Rosenberg, University of North Carolina at Chapel Hill "A first-rate work on one of the central philosophical figures of the twentieth century. It is clear, comprehensive and authoritative. This book is a major achievement." - Paul Coates, University of Hertfordshire
Willem A. deVries is Professor of Philosophy at the University of New Hampshire.