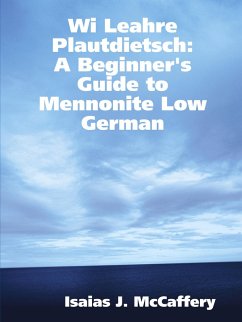 Wi Leahre Plautdietsch: A Beginner's Guide to Mennonite Low German
Broschiertes Buch
Sprache: Englisch
versandkostenfrei

innerhalb Deutschlands

Sofort lieferbar

Alle Preise inkl. MwSt.
Andere Kunden interessierten sich auch für
Wi Leahre Plautdietsch: A Beginner's Guide to Mennonite Low German
This book is a beginner's guide to Plautdietsch- a language spoken in the U.S., Canada, Mexico, Paraguay, Belize, Bolivia, Germany, Russia and other nations. It assumes no prior knowledge of either Plautdietsch or standard German. The text may be used for either self-study or for classroom learning, and it is deliberate in limiting the amount of grammatical terminology/jargon that appears. The goal is to assist in everyday communication and to open a window into the existing world of Low German literature. Many "triple entries" are provided in English, Plautdietsch and High German [Hochdeutsch]. Dialogues and short readings will also introduce German-Russian Mennonite cultural themes. "Wi Leahre Plautdietsch" is presently the only grammar of its kind produced in the Americas. Other literature pertaining to Mennonite culture and tradition can be obtained through the MENNONITE HERITAGE & AGRICULTURAL MUSEUM. Visit the website at mhmuseum@mtelco.net.
Produktinformation
---
Gewicht: 400g
ISBN-13: 9780615247656
ISBN-10: 0615247652
Best.Nr.: 25068975