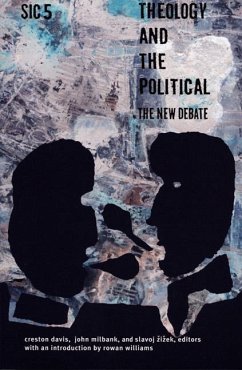 Theology and the Political: The New Debate
Herausgeber: Davis, Creston; Zizek, Slavoj; Milbank, John
Broschiertes Buch
Sprache: Englisch
versandkostenfrei

innerhalb Deutschlands

EUR 25,95

Versandfertig in über 4 Wochen

Alle Preise inkl. MwSt.
Andere Kunden interessierten sich auch für
Theology and the Political: The New Debate
A reassertion o fthe importance of theology to political action that goes beyond both liberal democratic theory and neoconservatism.

The essays in Theology and the Political-written by some of the world's foremost theologians, philosophers, and literary critics-analyze the ethics and consequences of human action. They explore the spiritual dimensions of ontology, considering the relationship between ontology and the political in light of the thought of figures ranging from Plato to Marx, Levinas to Derrida, and Augustine to Lacan. Together, the contributors challenge the belief that meaningful action is simply the successful assertion of will, that politics is ultimately reducible to "might makes right." From a variety of perspectives, they suggest that grounding human action and politics in materialist critique offers revolutionary possibilities that transcend the nihilism inherent in both contemporary liberal democratic theory and neoconservative ideology.

Contributors
Anthony Baker
Daniel M. Bell Jr.
Phillip Blond
Simon Critchley
Conor Cunningham
Creston Davis
Hent de Vries
William Desmond
Terry Eagleton
Rocco Gangle
Philip Goodchild
Karl Hefty
Eleanor Kaufman
Tom McCarthy
John Milbank
Antonio Negri
Catherine Pickstock
Patrick Aaron Riches
Mary-Jane Rubenstein
Regina Schwartz
Kenneth Surin
Graham Ward
Rowan Williams
Slavoj Zizek

"Underlying all the very varied essays in this volume is a set of issues about how we understand human action. And what the essays have in common, I believe, is a conviction that the fundamental requirement of a politics worth the name is that we have an account of human action that decisively marks its distance from assumptions about action as the successful assertion of will. If there is no hinterland to human acting except the contest of private and momentary desire, meaningful action is successful action, an event in which a particular will has imprinted its agenda on the 'external' world. Or, in plainer terms, meaning is power . . . and any discourse of justice is illusory."-Rowan Williams, Archbishop of Canterbury, from the introduction
Produktinformation
---
Verlag: DUKE UNIV PR
2005
Ausstattung/Bilder: 520 pages
Seitenzahl: 476
Englisch
Abmessung: 235mm x 155mm x 29mm
Gewicht: 685g
ISBN-13: 9780822334729
ISBN-10: 0822334720
Best.Nr.: 22366480
Creston Davis is a doctoral candidate in philosophical theology at the University of Virginia.John Milbank is a professor of religion, politics, and ethics at the University of Nottingham. His books include "Being Reconciled: Ontology and Pardon" and "Theology and Social Theory: Beyond Secular Reason."Slavoj Zižek is a senior researcher at the Institute for Social Studies in Ljubljana, Slovenia. He is the author of "Tarrying with the Negative: Kant, Hegel, and the Critique of Ideology," editor of "Cogito and the Unconscious: Kant, Hegel, and the Critique of Ideology," and coeditor of "Perversion and the Social Relation "and "Gaze and Voice as Love Objects," all also published by Duke University Press.