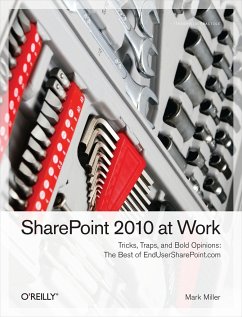 SharePoint 2010 at Work
Tricks, Traps, and Bold Opinions: The Best of EndUserSharePoint.com
By Mark Miller, Kerri Abraham, Eric Alexander et al.
Broschiertes Buch
Sprache: Englisch
versandkostenfrei

innerhalb Deutschlands

Sofort lieferbar

Alle Preise inkl. MwSt.
*Früherer Preis

-17 %
Andere Kunden interessierten sich auch für
SharePoint 2010 at Work
If you work with SharePoint, you may have discovered that there are countless tricks for using this platform to solve real-world problems-and you certainly wouldn't mind learning some of them. That's the purpose behind EndUserSharePoint, a community site that lets end users share ingenious new ways for putting SharePoint to work. This insightful and entertaining book presents a compilation of popular, well-written articles from the site, published by contributors for people who use SharePoint at their companies but don't have access to its technical server side. Each engaging story puts you into the narrative as a participant, rather than a passive observer, so you can easily visualize the situation and share the "aha!" solution with the author. Learn some tricks, gain some insight-and have fun doing it. These articles will help you: * Build a documented framework for evaluating whether your company is getting the most value from SharePoint * Create documentation and script management with OneNote and a SharePoint library * Use the Data View Web Part to create hyperlinks from existing SharePoint data * Implement data visualization in SharePoint without access to the server * Creating document libraries with mixed content sources in any SharePoint version * Pull information from disparate site collections into a single navigation system Contributors include: Sadalit Van Buren Kerri Abraham Jim Bob Howard Marc D. Anderson Laura Rogers Waldek Mastykarz Alexander Bautz Dessie Lunsford Eric Alexander Peter Allen "What a fantastic resource. No other book in the SharePoint community hits this 'power user' or 'end user' audience like this book does. There are powerful examples in here that will really solve business problems and set the reader on the right track." -Joel Oleson, Global SharePoint Evangelist, and one of the first SharePoint architects

If you re a SharePoint site manager or administrator, you finally have a handy single-source reference to help you through the tough SharePoint learning curve. Written by Mark Miller and his stable of well-known contributors at EndUserSharePoint.com, this book contains the most helpful articles from this popular site fully updated for SharePoint 2010.
Each chapter focuses on core issues that vex SharePoint administrators when it comes to setting up and managing sites. You ll learn tried-and-true solutions for creating charts and graphs, joining views in SharePoint lists, building a SharePoint Scripting Resource Center, along with many other topics. Join the tens of thousands of SharePoint site administrators who have found solid advice from Mark Miller and his crew.
Tables of Contents:
Chapter 1: The SharePoint Maturity Model by Sadalit Van Buren
Chapter 2: Empower the Power User by Kerri Abraham
Chapter 3: jQuery to the Rescue by Jim Bob Howard
Chapter 4: Unlocking the Mysteries of the SharePoint Data View Web Part XSL Tags by Marc D. Anderson
Chapter 5: Hyperlinks in the Data View Web Part by Laura Rogers
Chapter 6: Building a Quote of the Day Web Part in SharePoint 2010 by Waldek Mastykarz
Chapter 7: SPJS Charts for SharePoint by Alexander Bautz
Chapter 8: Taming the Elusive Calculated Column Logic Functions by Dessie Lunsford
Chapter 9: Creating Document Libraries with Mixed Content Sources by Eric Alexander
Chapter 10: SharePoint 2010 Tab Page by Peter Allen
Chapter 11: A Global Navigation Solution across Site Collections by Peter Allen
Produktinformation
---
Verlag: O'Reilly Media
2012
Ausstattung/Bilder: 2012. XI, 245 p. w. ill.
Seitenzahl: 264
Englisch
Abmessung: 237mm x 182mm x 20mm
Gewicht: 430g
ISBN-13: 9781449321000
ISBN-10: 1449321003
Best.Nr.: 34551106
Mark Miller is Founder and Editor of EndUserSharePoint.com. Founding member of NothingbutSharePoint.com He is currently Senior Storyteller and Community Advocate at FPWeb.net. His main expertise is in developing and building live online communities built around specific market verticals. He also speaks extensively on the SharePoint circuit.
Ein Marktplatz-Angebot für "SharePoint 2010 at Work" für EUR 30,00
Zustand
Preis
Porto
Zahlung
Verkäufer
Rating
wie neu
30,00
7,95
offene Rechnung, Banküberweisung, Lastschrift, PayPal
Auriga Ltd
%
ansehen