Nicht lieferbar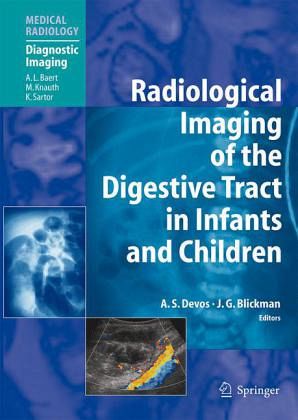 ---
Andere Kunden interessierten sich auch für
This comprehensive, up-to-date and extensively illustrated volume offers a multimodality approach to gastrointestinal imaging in children and infants. The role of each of the currently available imaging techniques is considered carefully, and diagnostic dilemmas are discussed and illustrated. Against the background of rapid recent advances in imaging technology, this volume will serve as an essential reference work for all who are engaged in the field.
Produktdetails
Medical Radiology, Diagnostic Imaging
Verlag: Springer, Berlin
Seitenzahl: 252
2007
Ausstattung/Bilder: 2007. x, 252 S. 457 SW-Abb., 43 Farbabb., 8 Farbtabellen.
Englisch
Abmessung: 27 cm
Gewicht: 928g
ISBN-13: 9783540407331
ISBN-10: 3540407332
Best.Nr.: 14714368
- Emergency Pediatric GI Imaging (Teresa Berrocal)

- Oesophagos (Carlo Buonomo)

- Stomach and Duodenum (Jeanette Perez-Rossello)

- Accessory Organs of Digestion (Rafael M. Jiménez and Susan A. Connolly)

- Small Bowel in Children (Steven Kraus)

- Colonic Entities (Christine M. Hall and Melanie Hiorns)

- Pedi Interventions We Can Do (Rick R. van Rijn)

- Subject Index

- List of Contributors.
From the reviews:

"This book adds to those dedicated to paediatric radiology in the Medical Radiology / Diagnostic Imaging series ... . will be much appreciated by radiologists (both paediatric radiologists and those dealing with adults), paediatricians and paediatric surgeons and adds substance to the existing knowledge of the subject matter. This is most of all pertinent to the well-being of children, who will most benefit by the information it contains. ... much appreciated by trainees in radiology, for whom it is warmly recommended." (Giampiero Beluffi, La Radiologia Medica, Vol. 113, 2008)

"This is a comprehensive textbook on updated imaging of the digestive tract in infants and children. ... It is intended for radiologists in training or those seeking continuing medical education, as well as for pediatricians. ... The book is easy to read with the help of excellent illustrations (43 are in color). ... It is a concise reference work for all practitioners in this field." (Kamaldine Oudjhane, Radiology, Vol. 251 (1), April, 2009)

From the reviews:

"This book adds to those dedicated to paediatric radiology in the Medical Radiology / Diagnostic Imaging series … . will be much appreciated by radiologists (both paediatric radiologists and those dealing with adults), paediatricians and paediatric surgeons and adds substance to the existing knowledge of the subject matter. This is most of all pertinent to the well-being of children, who will most benefit by the information it contains. … much appreciated by trainees in radiology, for whom it is warmly recommended." (Giampiero Beluffi, La Radiologia Medica, Vol. 113, 2008)

"This is a comprehensive textbook on updated imaging of the digestive tract in infants and children. … It is intended for radiologists in training or those seeking continuing medical education, as well as for pediatricians. … The book is easy to read with the help of excellent illustrations (43 are in color). … It is a concise reference work for all practitioners in this field." (Kamaldine Oudjhane, Radiology, Vol. 251 (1), April, 2009)