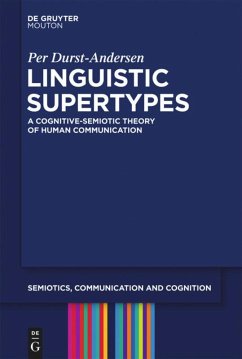 Linguistic Supertypes
A Cognitive-Semiotic Theory of Human Communication
Broschiertes Buch
Sprache: Englisch
Andere Kunden interessierten sich auch für
Linguistic Supertypes
By integrating ideas of Peirce, Bühler, Bakhtin, Piaget and Jakobson, in this book the author defines three linguistic supertypes each operating with either the situation in reality, the speaker's experience of it or his condensed information to the hearer. The theory is built step by step on the basis of a detailed examination of individual languages and their relationship to perception and cognition, their representation of situations and their use in oral and written discourse. The theory offers a completely new understanding of language and its role in perception, cognition and communication.
Produktinformation
---
Verlag: De Gruyter; De Gruyter Mouton
2012
Ausstattung/Bilder: 2012. XII, 314 p. 230 mm
Seitenzahl: 314
Semiotics, Communication and Cognition (SCC)
Englisch
Abmessung: 230mm x 155mm
Gewicht: 491g
ISBN-13: 9783110253146
ISBN-10: 3110253143
Best.Nr.: 35272476
"Durst-Anderson's theoretic discussions and illustrations of connections between perception, cognition and communication make for intriguing reading indeed."Anna Cabak Rédei in: Cybernetics and Human Knowing,1-2/2014
Per Durst-Andersen, Copenhagen Business School, Denmark.