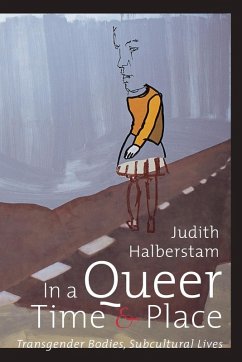 In A Queer Time And Place
Transgender Bodies, Subcultural Lives
Broschiertes Buch
Sprache: Englisch
versandkostenfrei

innerhalb Deutschlands

Sofort lieferbar

Alle Preise inkl. MwSt.
Andere Kunden interessierten sich auch für
In A Queer Time And Place
She then exposes the influence of lesbian drag king cultures upon hetero-male comic films, such as Austin Powers and The Full Monty, and, finally, points to dyke subcultures as one site for the development of queer counterpublics and queer temporalities. Considering the sudden visibility of the transgender body in the early twenty-first century against the backdrop of changing conceptions of space and time, In a Queer Time and Place is the first full-length study of transgender representations in art, fiction, film, video, and music. This pioneering book offers both a jumping off point for future analysis of transgenderism and an important new way to understand cultural constructions of time and place.
Produktinformation
---
Abmessung: 227mm x 153mm x 14mm
Gewicht: 340g
ISBN-13: 9780814735855
ISBN-10: 0814735851
Best.Nr.: 13597565
"Halberstam's marvellous new book combines fierce argumentation, vivid description, and astute as well as hilarious commentary. The author not only provides a powerful critique of common defenses and dismissals of 'postmodernism,' but offers a redefinition of 'identity politics' for the new millennium as well." Lisa Duggan, author of Twilight of Equality?: Neoliberalism, Cultural Politics, and the Attack on Democracy "The wide-ranging scope of (Halberstam's) work both serves to make her book accessible to many kinds of readers as well as to show the wide scope in which her argument registers. This makes her book a joy to read. Similarly, her wit and ability to capture large theoretical terms in rich and layered (and funny!) images contributes to the pleasure of this book of 'theory.'" The Cream City Review "This small seductive book pours warmth as Halberstam confesses and connects movements of pop culture and high art to a deeper understanding of the potentials of the body. She includes us in her world and its privileged understanding of her subject...In a Queer Time displays Halberstam's sophisticated understanding of contemporary culture in a plain and engaging tone." Pop Matters "An extremely honest and provocative book. Judith Halberstam's In A Queer Time and Place both validates and admires the beauty of the transperson as well as the genderqueer in this new era of identity performance. It is an incredible portrayal of the partnership between trans issues and gay and lesbian issues that I applaud with a full heart." JD Samson, from the band Le Tigre "Halberstam's text is academically important, critiquing identity politics and examining uncommon but essential transgender representations in art, film, and society." The Bloomsbury Review "The mere raising of these issues is important to anyone thinking about them, and the possibilities she suggests for following them further make In a Queer TIme and Place an essential addition to the queer studies shelf." Rain Taxi
Judith Halberstam is professor of literature at UC San Diego. She is the author of Skin Shows: Gothic Horror and the Technology of Monsters, Female Masculinity and coauthor with Del LaGrace Volcano of The Drag King Book.