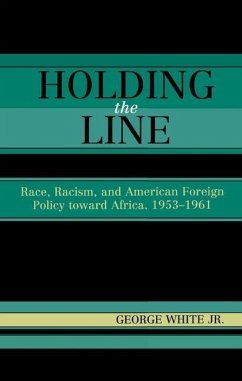 Holding the Line: Race, Racism, and American Foreign Policy Toward Africa, 1953-1961
Broschiertes Buch
Sprache: Englisch
versandkostenfrei

innerhalb Deutschlands

Versandfertig in über 4 Wochen

Alle Preise inkl. MwSt.
Andere Kunden interessierten sich auch für
Holding the Line: Race, Racism, and American Foreign Policy Toward Africa, 1953-1961
The Eisenhower administration's confrontation with Africa demonstrates the significance of race in the creation and execution of American foreign policy. In this new work, historian George White, Jr., explores the ways in which Eisenhower diplomacy, influenced by America's racialized fantasies, fears, and desires, turned the Cold War into a global sanctuary for the rehabilitation of Whiteness.
Produktinformation
---
Gewicht: 327g
ISBN-13: 9780742533837
ISBN-10: 0742533832
Best.Nr.: 21212161
An interesting and engaging exploration of the malleability of race in American culture and foreign policy during the Eisenhower administration. George White, Jr. has helped to illuminate the pathology of the 'American Dilemma' as it confronted the disintegration of both colonial rule in Africa and the Jim Crow regime in American life. -- Cary Fraser, Penn State University George White has delivered a crisp, historical analysis of the rules of 'whiteness' and how those rules undercut the promise of racial equality in the United States and the fight for political and economic independence in Africa. Holding the Line simply deepens our understanding of how far we have not come and why. -- Carol Anderson, author of Eyes Off the Prize: The United Nations and the African American Struggle for Human Rights, 1944-1955 Recommended. -- J. P. Dunn, Converse College CHOICE In his Holding the Line, George White makes an outstanding contribution to the historiography. His writing is clear, concise, and convincing, and based on thorough research. His critical analysis of the policies toward Africa of the Eisenhower administration joins the excellent work of other scholars such as Thomas Borstelmann regarding the relationship between race and foreign policy. In the tradition of William Appleman Williams, White spells out another aspect of the tragedy of American diplomacy-specifically how American attempts to preserve white supremacy contributed to economic instability and undermined democracy in Africa. His discussion of the harmful effects of these policies on African women is particularly enlightening. This is a must-read for anyone interested in the Cold War, relations with Africa, or the significance of race in U.S. history. -- Andrew DeRoche, Front Range Community College
George White, Jr. is assistant professor of history at the University of Tennessee.