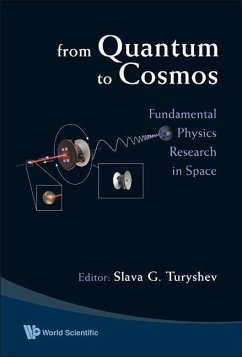 From Quantum to Cosmos: Fundamental Physics Research in Space
Herausgeber: Turyshev, Slava G.
Gebundenes Buch
Sprache: Englisch
versandkostenfrei

innerhalb Deutschlands

Versandfertig in über 4 Wochen

Alle Preise inkl. MwSt.
Andere Kunden interessierten sich auch für
From Quantum to Cosmos: Fundamental Physics Research in Space
Features articles contributed by participants of the international workshop - From Quantum to Cosmos: Fundamental Physics Research in Space - held at the Airlie Center in Warrenton, Virginia, USA, on May 21-24, 2006. This volume discusses the advances in our understanding of fundamental physics that are anticipated in the future.
Produktinformation
---
Gewicht: 1430g
ISBN-13: 9789814261203
ISBN-10: 9814261203
Best.Nr.: 26578946
Inhaltsangabe
Policy: Space-based Research in Fundamental Physics and Quantum Technologies (S G Turyshev et al.)
Space-based Science and the American Competitiveness Initiative (J H Marburger III)
Laboratory Experiments for Fundamental Physics in Space (W D Phillips)
Gravitational Theory: Observable Consequences of Strong Coupling in Theories with Large Distance Modified Gravity (G Dvali)
Theory and Phenomenology of DGP Gravity (C Deffayet)
Testing Strong MOND Behavior in the Solar System (J Magueijo &amp
J Bekenstein)
Gravitational Experiment: Apollo: A New Push in Lunar Laser Ranging (T W Murphy Jr et al.)
Asynchronous Laser Transponders: A New Tool for Improved Fundamental Physics Experiments (J J Degnan)
A Laboratory Test of the Equivalence Principle as Prolog to a Spaceborne Experiment (R D Reasenberg &amp
J D Phillips)
Physics Beyond the Standard Model: Detecting Sterile Dark Matter in Space (A Kusenko)
Electron Electric Dipole Moment Experiment with Slow Atoms (H Gould)
Testing Relativity at High Energies Using Spaceborne Detectors (F W Stecker)
Atoms and Clocks: New Forms of Quantum Matter Near Absolute Zero Temperature (W Ketterle)
Atomic Quantum Sensors in Space (T van Zoest et al.)
Precision Measurement Based on Ultracold Atoms and Cold Molecules (J Ye et al.)
Cosmology and Dark Energy: Dark Energy Task Force: Findings and Recommendations (R N Cahn)
CMB Polarization: The Next Decade (B Winstein)
Natural Inflation: Status After WMAP Three-Year Data (K Freese et al.)
and other papers.