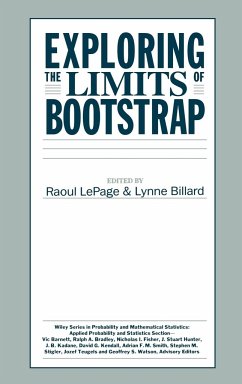 Exploring the Limits of Bootstrap
Herausgeber: Billard, Lynne; Lepage, Raoul
Gebundenes Buch
Sprache: Englisch
versandkostenfrei

innerhalb Deutschlands

EUR 176,95

Versandfertig in über 4 Wochen

Alle Preise inkl. MwSt.
Andere Kunden interessierten sich auch für
Exploring the Limits of Bootstrap
Explores the application of bootstrap to problems that place unusual demands on the method. The bootstrap method, introduced by Bradley Efron in 1973, is a nonparametric technique for inferring the distribution of a statistic derived from a sample.
Produktinformation
---
Abmessung: 243mm x 165mm x 28mm
Gewicht: 848g
ISBN-13: 9780471536314
ISBN-10: 0471536318
Best.Nr.: 21073153
Partial table of contents:
GENERAL PRINCIPLES OF THE BOOTSTRAP.
On the Bootstrap of M-Estimators and Other Statistical Functionals (M. Arcones & E. Gine).
Bootstrapping Markov Chains (K. Athreya & C. Fuh).
Six Questions Raised by the Bootstrap (B. Efron).
Efficient Bootstrap Simulation (P. Hall).
Bootstrapping Signs (R. LePage).
Bootstrap Bandwidth Selection (J. Marron).
APPLICATIONS OF THE BOOTSTRAP.
A Generalized Bootstrap (E. Bedrick & J. Hill).
Bootstrapping Admissible Linear Model Selection Procedures (D. Brownstone).
A Hazard Process for Survival Analysis (J. Hsieh).
A Nonparametric Density Estimation Based Resampling Algorithm (M. Taylor & J. Thompson).
Nonparametric Rank Estimation Using Bootstrap Resampling and Canonical Correlation Analysis (X. Tu, et al.).
Index.