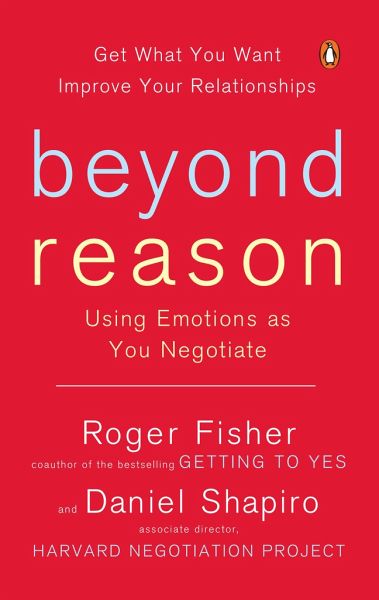 ---
Co-authored by the writer of Getting to Yes and a Harvard psychologist, a guide to understanding how emotions can be used as a tool during a negotiating process explains how readers can interact more productively by getting in touch with feelings and by setting a positive tone.

"Written in the same remarkable vein as Getting to Yes , this book is a masterpiece." -Dr. Steven R. Covey, author of The 7 Habits of Highly Effective People

- Winner of the Outstanding Book Award for Excellence in Conflict Resolution from the International Institute for Conflict Prevention and Resolution -

In Getting to Yes , renowned educator and negotiator Roger Fisher presented a universally applicable method for effectively negotiating personal and professional disputes. Building on his work as director of the Harvard Negotiation Project, Fisher now teams with Harvard psychologist Daniel Shapiro, an expert on the emotional dimension of negotiation and author of Negotiating the Nonnegotiable: How to Resolve Your Most Emotionally Charged Conflicts . In Beyond Reason , Fisher and Shapiro show readers how to use emotions to turn a disagreement-big or small, professional or personal-into an opportunity for mutual gain.
Produktdetails
Verlag: Penguin Us
Seitenzahl: 244
2008
Ausstattung/Bilder: 2006. XII, 244 p. 7.97 in
Englisch
Gewicht: 180g
ISBN-13: 9780143037781
ISBN-10: 0143037781
Best.Nr.: 21821714
"Written in the same remarkable vein as Getting to Yes , this books is a masterpiece."
-Dr. Steven R. Covey, author of The 7 Habits of Highly Effective People

"Powerful, practical advice. It will put your emotions to good use."
-Archbishop Desmond Tutu

"A must read for anyone who negotiates-which is to say for all of us."
-Elena Kagan, Associate Justice of the Supreme Court of the United States; former dean of Harvard Law School; and former associate counsel to the president

"A brilliant guide . . . Anyone who faces a difficult conversation, let alone a formal negotiation, can use this as a guidebook."
-Daniel Goleman, author of Emotional Intelligence

"Destined to take its place alongside Getting to Yes on innumerable bookshelves around the world."
-Howard Gardner, Harvard University

"An indispensable real-world guide for anyone. Roger Fisher and Daniel Shapiro have brilliantly detailed a methodical system for moving emotions in a constructive direction. The NYPD Hostage Negotiation Team faces some of the most high-stakes decisions every day. We regularly apply the skills of Beyond Reason to create the straightforward dialogue that resolves the vast majority of our hostage negotiations."
-Lt. Jack J. Cambria, commanding officer, NYPD Hostage Negotiation Team

"As the prosecutor of the International Criminal Court, I have to apply law to the world's most serious crimes. A real challenge is how to deal with people's emotions and to maximize the constructive impact of our work. Beyond Reason provides essential tools to understand how to develop solutions to even the most serious problem."
-Luis Moreno-Ocampo, chief prosecutor, International Criminal Court

"The perfect follow-up to Getting to YES . . . The book is both profound and easy to read, based on a wide range of research and firsthand experience in negotation. There is no interaction setting-public, professional, or personal, local, or international-where its recommendations will not be applicable."
-Elise Boudling, Dartmouth College

" Beyond Reason is exactly what we need now: a lucid, systematic approach to dealing with emotions, infused with a practical wisdom that will help you understand, enrich, and improve all your negotiations-and all your relations with fellow human beings."
-Leonard L. Riskin, director, Center for the Study of Dispute Resolution, University of Missouri-Columbia

"The resurgence of interest in emotions has broadened the impact of research on brain and behavior. Beyond Reason takes this to a new level, showing how emotions can positively and negatively affect the way managers and other negotiators approach their goals."
-Joseph LeDoux, author of Anxious, The Emotional Brain , and Synaptic Self

"Masters of diplomacy, Fisher and Shapiro of the Harvard Negotiation Project, build on Fisher's bestseller (he coauthored Getting to YES ) with this instructive, clearly written book that addresses the emotions and relationships inevitably involved in negotiation."
- Publishers Weekly (starred review)

"This is one of those unusual works that is so carefully constructed and written that you may find yourself praising its common sense and nodding easily in concurrence. . . . It is a book to reflect upon and that belongs on every negotiator's reference shelf."
-The Negotiator Magazine

"In this valuable, clearly written book, the authors say good negotiations-in business as well as in personal or family situations-hinge on respect for others, but also respect for your own feelings."
-USA Today