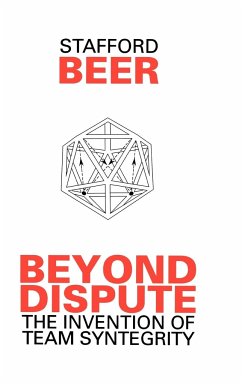 Beyond Dispute: The Invention of Team Syntegrity
Gebundenes Buch
Sprache: Englisch
versandkostenfrei

innerhalb Deutschlands

Versandfertig in über 4 Wochen

Alle Preise inkl. MwSt.
Andere Kunden interessierten sich auch für
Beyond Dispute: The Invention of Team Syntegrity
The aim of the book is to provide managers and their advisors with a new planning method that captures the native genius of the organization in a non-political and non-hierarchical way. The book includes an enquiry into Beers concept of recursive consciousness, based on this model, that is relevant to both neurocybernetics and the social systems sciences.
Produktinformation
---
Verlag: John Wiley & Sons
1994
Seitenzahl: 380
Englisch
Abmessung: 237mm x 162mm x 29mm
Gewicht: 498g
ISBN-13: 9780471944515
ISBN-10: 0471944513
Best.Nr.: 21542722
Inhaltsangabe
THE STORY OF AN ORGANIZATIONAL IDEA.
A Long Gestation.
On Protocols.
Path-Finding Experiments.
The Academic Milieu.
The Corporate Scene.
In the Community.
ENHANCING PROCEDURES.
Protocols Revisited.
Vexed Questions of Allocation.
Developmental Planning.
Governance or Government?.
THE FORM OF THE MODEL.
The Structure of Icosahedral Space.
The Dynamics of Icosahedral Space.
Self-Reference in Icosahedral Space.
EPILOGUE.
The Concept of Recursive Consciousness.
COLLABORATORS' SURPLUS.
Reverberating Networks: Modelling Information Propagation in Syntegration by Spectral Analysis (A. Jalali).
From Prototype to Protocol: Design for Doing (J. Truss).
Pliny the Later: Elective Selection (J. Hancock).
You Drive for Show but You Putt for Dough: A Facilitator's Perspective (A. Pearson).
One Man's Signal Is Another Man's Noise: Another Facilitator's Perspective (D. Beatty).
About Face: A Turn for Better Planning (J. Truss).
The Very Model of a Modern System-General: How the Viable System Model Actually Works (A. Leonard).
References.
Index.

Ein Marktplatz-Angebot für "Beyond Dispute: The Invention of Team Syntegrity" für EUR 110,00
Zustand
Preis
Porto
Zahlung
Verkäufer
Rating
leichte Gebrauchsspuren
110,00
1,80
Banküberweisung
kruschtsammeler
100,0%
ansehen