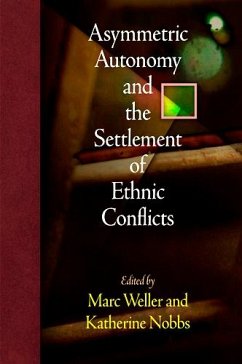 Asymmetric Autonomy and the Settlement of Ethnic Conflicts
Herausgeber: Weller, Marc; Nobbs, Katherine
Broschiertes Buch
Sprache: Englisch
versandkostenfrei

innerhalb Deutschlands

EUR 25,95

Versandfertig in über 4 Wochen

Alle Preise inkl. MwSt.
Andere Kunden interessierten sich auch für
Asymmetric Autonomy and the Settlement of Ethnic Conflicts
This collection of new case studies assesses the ability of asymmetrical autonomy agreements to resolve violent struggles between central governments and separatist groups within their borders.
Produktinformation
---
Gewicht: 476g
ISBN-13: 9780812222388
ISBN-10: 0812222385
Best.Nr.: 35560449
"A strong collection of empirically-rich case studies."-Journal of Peace Research "A useful collection of articles that analyses issues of autonomy and asymmetry from a multi-dimensional perspective."-International Journal on Minority and Group Rights
Marc Weller is Professor in International Law and International Constitution Studies at the University of Cambridge, Director of the Lauterpacht Centre for International Law, and former Director of the European Centre for Minority Issues. Katherine Nobbs is Human Dimension Officer at Organisation for Security and Cooperation in Europe (OSCE) Mission in Kosovo.
Preface Introduction PART I. ASYMMETRICAL APPROACHES TO STATE DESIGN 1 Cases of Asymmetrical Territorial Autonomy
Stefan Wolff 2 The Russian Constitutional System: Complexity and Asymmetry
Bill Bowring 3 Partial Asymmetry and Federal Construction: Accommodating Diversity in the Canadian Constitution
Raffaele Iacovino 4 Elusive Autonomy in Sub
Saharan Africa
Coel Kirkby and Christina Murray 5 Asymmetry in the Face of Heavily Disproportionate Power Relations: Hong Kong
Johannes Chan 6 Asymmetric Autonomy in the United Kingdom
John McGarry PART II. CONFLICT SETTLEMENTS 7 Thinking About Asymmetry and Symmetry in the Remaking of Iraq
Brendan O'Leary PART III. EMERGING SETTLEMENTS 8 The Case for Asymmetric Federalism in Georgia: A Missed Opportunity
Jonathan Wheatley 9 Gagauz Autonomy in Moldova: The Real and the Virtual in Post
Soviet State Design
Oleh Protsyk 10 Asymmetric Autonomy and Power Sharing for Sri Lanka: A Political Solution to Ethnic Conflict?
Kristina Eichhorst 11 Puntland's Declaration of Autonomy and Somaliland's Secession: Two Quests for Self
Governance in a Failed State
Janina Dill Conclusion List of Contributors Index