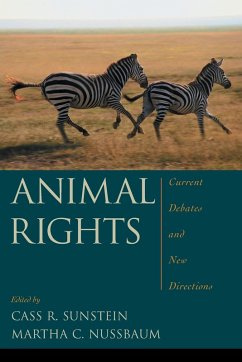 Animal Rights
Herausgegeben von Sunstein, Cass R.
Broschiertes Buch
Sprache: Englisch
versandkostenfrei

innerhalb Deutschlands

Bisher EUR 21,95*

EUR 18,95

Versandfertig in über 4 Wochen

Alle Preise inkl. MwSt.
*Früherer Preis

-14 %
Andere Kunden interessierten sich auch für
Animal Rights
Cass Sunstein and Martha Nussbaum bring together an all-star cast of contributors to explore the legal and political issues that underlie the campaign for animal rights and the opposition to it. Addressing ethical questions about ownership, protection against unjustified suffering, and the ability of animals to make their own choices free from human control, the authors offer numerous different perspectives on animal rights and animal welfare. They show that whatever one's ultimate
conclusions, the relationship between human beings and nonhuman animals is being fundamentally rethought. This book offers a state-of-the-art treatment of that rethinking.
Produktinformation
---
Abmessung: 232mm x 156mm x 19mm
Gewicht: 495g
ISBN-13: 9780195305104
ISBN-10: 0195305108
Best.Nr.: 22269760
Cass R. Sunstein is the Administrator of the Office of Information and Regulatory Affairs in the Obama Administration and the Felix Frankfurter Professor of Law at Harvard University. He is the author of many books, including the New York Times best-seller Nudge (with Richard Thaler), Infotopia, Republic 2.0, Worst-Case Scenarios, Radicals in Robes, Why Societies Need Dissent, and Democracy and the Problem of Free Speech.
Ein Marktplatz-Angebot für "Animal Rights" für EUR 10,50
Zustand
Preis
Porto
Zahlung
Verkäufer
Rating
wie neu
10,50
2,50
Banküberweisung
lori1206
100,0%
ansehen