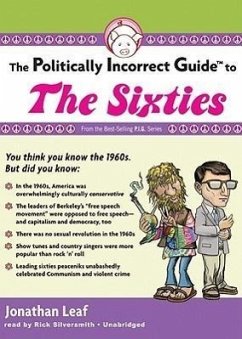 The Politically Incorrect Guide to the Sixties
Sprecher: Silversmith, Rick
Audio CD
versandkostenfrei

innerhalb Deutschlands

Versandfertig in über 4 Wochen

Alle Preise inkl. MwSt.
Andere Kunden interessierten sich auch für
The Politically Incorrect Guide to the Sixties
Get ready to break on through to the other side as critically-acclaimed playwright and journalist Jonathan Leaf reveals the politically incorrect truth about one of the most controversial decades in historythe 1960s.
Produktinformation
---
ISBN-10: 1433254506
Best.Nr.: 26043904
Laufzeit: 360 Min.
Jonathan Leaf is a journalist and has written for many US publications, including the New York Post, The New Yorker, National Review, and Weekly Standard. Leaf is also a critically-acclaimed playwright, garnering rave reviews in the Wall Street Journal for his plays The Caterers and The Germans in Paris. He currently lives in New York.