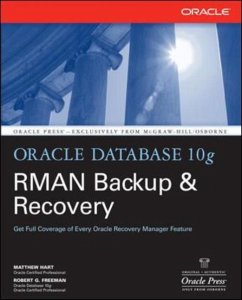 Oracle Database 10g RMAN Backup & Recovery
Broschiertes Buch
Sprache: Englisch
versandkostenfrei

innerhalb Deutschlands

EUR 46,95

Versandfertig in über 4 Wochen

Alle Preise inkl. MwSt.
Andere Kunden interessierten sich auch für
Oracle Database 10g RMAN Backup & Recovery
The only book to offer complete coverageof Oracle s powerful Recovery Manager(RMAN) technology
This Oracle Press guide shows you how to take full advantage ofRMAN--the robust backup and recovery technologybuilt into Oracle 10g.Oracle Database 10g RMANBackup&Recoverywill serve both as a step-by-steptutorial and an indispensable on-the-job referencethatyou will refer to again and again. All the latestRMAN features introduced in Oracle Database 10gare covered, including incremental backups, flashrecovery area, resetlogs, and much more.

Produktinformation
---
2007
New.
Ausstattung/Bilder: 2007. XXIX, 666 p. w. figs. 226.1 mm
Seitenzahl: 666
Oracle Press
Englisch
Abmessung: 232mm x 186mm x 35mm
Gewicht: 1120g
ISBN-13: 9780072263176
ISBN-10: 0072263172
Best.Nr.: 20928404
Matthew Hart (Colorado Springs, CO) has worked exclusively with the Windows Operating System for more than 5 years, the last 3 of which have been with Oracle Corporation, assisting Oracle customer implement the RDBMS on Windows NT and 2000. From 1999 onward, his role has increasingly become focused on Oracle's high availability solutions, specifically Oracle Recovery Manager and Oracle Advanced Replication. For the past 6 months he has been involved in the beta testing of Oracle9i, and he currently supports beta customers who are rolling out 9i into the enterprise. Matthew became an Oracle Certified Professional in May 1999.
Part I: Getting Started with RMAN in Oracle Database 10g Chapter 1: Oracle Database 10g Backup and Recovery Architecture Tour Chapter 2: Introduction to the RMAN Architecture Part II: Setup Principles and Practices Chapter 3: RMAN Setup and Configuration Chapter 4: Media Management Considerations Chapter 5: Oracle Secure Backup Chapter 6: Enhancing RMAN with VERITAS NetBackup for Oracle Chapter 7: Configuring EMC NetWorker Module for Oracle Chapter 8: RMAN and Tivoli Storage Manager Part III: Using RMAN Effectively Chapter 9: RMAN Backups Chapter 10: RMAN Restore and Recovery Chapter 11: Using Oracle Enterprise Manager for Backup and Recovery Chapter 12: RMAN Advanced Recovery Topics Chapter 13: Surviving User Errors: Flashback Technologies Chapter 14: Maintaining RMAN Chapter 15: Monitoring and Reporting on RMAN Chapter 16: Performance Tuning RMAN Backup and Recovery Operations Part IV: RMAN in the Oracle Ecosystem Chapter 17: Duplication: Cloning the Target Database Chapter 18: