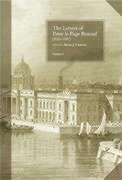 The Letters of Peter Le Page Renouf (1822-1897): Dublin (1854-1864)
Herausgeber: Cathcart, Kevin J.
Gebundenes Buch
Sprache: Englisch
versandkostenfrei

innerhalb Deutschlands

Versandfertig in über 4 Wochen

Alle Preise inkl. MwSt.
Andere Kunden interessierten sich auch für
The Letters of Peter Le Page Renouf (1822-1897): Dublin (1854-1864)
The letters in volume three cover Renouf's years in Dublin. He had been invited by John Henry Newman to be a lecturer in French at the opening of the Catholic University, which was later to become University College Dublin. He was subsequently appointed Professor of Ancient History and Geography. In his letters to his family he provides a vivid impression of life in the early years of the university. During this time he married Ludovica Brentano of Aschaffenburg, Germany, niece of the poet Clemens Brentano, and they started a family. On the low salary of the Catholic University, the young couple found it very difficult to make ends meet. Renouf's talents in Egyptology become apparent and he edited the "Atlantis", the university's own journal, and then helped with the editing of Sir John Dalberg Acton's "Home and Foreign Review". His extensive correspondence with Acton is included in this volume. In 1864, Acton helps to obtain a post for Renouf in England as Inspector of Schools.
Produktinformation
---
Gewicht: 785g
ISBN-13: 9781900621908
ISBN-10: 1900621908
Best.Nr.: 20950276
"This four volume collection of letters is now complete and will be a lasting monument to Renouf ... Professor Cathcart applies his scholarship with great attention to the details of matters ecclesiastical as well as Egyptylogical ... the writer of the letter is identified, the text to each letter is set out and notes appear at its foot ... each volume commences with a biography of Renouf and ends with a list of brief lives of the principal correspondents or of individuals who are referred to in the letters. The work is printed on good quality paper and the typeface is clear and attractive. The production is a credit to the publishers, the University College Dublin Press." Geoffrey Allez, La Societe Guernesiaise Report and Transactions XXV (4) 2004 "[This] volumes intrinsic interest lies in the illuminative view it presents of the early years of the university and Newman's management of affairs ... This third volume of Renouf letters constitutes an important source for historians of nineteenth-century higher education. It is, as with the first two volumes, meticulously produced and carefully edited." V. Alan McClelland Recusant History 2005 "Professor Cathcart, in these four volumes of letters has presented a clear, endurable and credible picture of an important figure who touched in many ways the varied moods of the nineteenth century. He has supplied a fine introduction, unobtrusive notes, full biographies of all correspondents, a useful bibliography of source material and a user-friendly index. It is a model of how a collection of letters should be presented." A. Alan McClelland Recusant History 2007