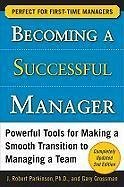 ---
This comprehensive yet inviting-to-read guide has been completely updated to cover today's most critical management topics--from company culture to new technologies.
About the Book
Becoming a Successful Manager has all the tools and techniques for making a smooth transition into the role of manager. Drawing on both academic research and real-world experience, the authors teach readers how to apply what they call "The Discovery Method." Through practical exercises and thought-provoking questions, readers learn how to manage others as successfully as they have managed themselves. Updates include such timely topics as the evolving roles of managers, managing up, and other changes brought on by technology, new generational influences, and changes in overall corporate culture and expectations.
Key Selling Features
Previous edition attracted praise from executives at Arthur Anderson, State Farm, Colgate Palmolive, A&E TV, and Zenith
Parkinson maintains busy consulting, speaking, and coaching schedules, appearing at venues such as ASTD and regional conferences
Market / Audience
New managers
About the Authors
Jack H. Grossman, Ph.D. , was a psychologist, management consultant, and professor emeritus at DePaul University's Kellstadt Graduate School of Business.
J. Robert Parkinson, Ph.D., (Sarasota, FL) serves on the faculty at Northwestern University. He is a consultant, trainer, and coach specializing in effective communications for major corporations, professional associations, and government agencies. He has hosted several radio programs and conducts seminars and personal coaching/counseling sessions in relationship building, management practices, and communication techniques.

Produktdetails
Verlag: Mcgraw-Hill Professional
Upd. 2nd Ed.
Seitenzahl: 215
2010
Ausstattung/Bilder: Upd. 2nd Ed. 2010. 224 p.
Englisch
Abmessung: 226mm x 150mm x 18mm
Gewicht: 310g
ISBN-13: 9780071741644
ISBN-10: 007174164X
Best.Nr.: 28925802