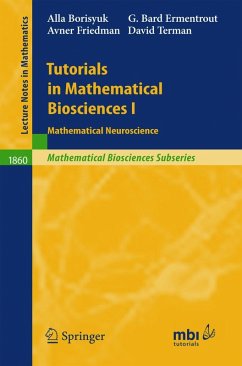 Produktdetails
Lecture Notes in Mathematics Vol.1860
Verlag: Springer, Berlin
Artikelnr. des Verlages: 11348290
N.- Auflage
Erscheinungstermin: 18. Februar 2005
Englisch
Abmessung: 237mm x 156mm x 12mm
Gewicht: 312g
ISBN-13: 9783540238584
ISBN-10: 3540238581
Artikelnr.: 13715496
Preface.- A. Friedman: Introduction to Neurons.- D. Terman: An Introduction to Dynamical Systems and Neuronal Dynamics.- B. Ermentrout: Neural Oscillators.- A. Borisyuk: Physiology and Mathematical Modeling of the Auditory System.
From the reviews:

"Each paper ends with a valuable bibliography. The volume introduces some basic theories on computational neuroscience. I recommend this volume as a very good book in mathematical neurosciences." (Ioan A. Rus, Zentralblatt MATH, Vol. 1062 (13), 2005)

"The present volume, a collection of four articles, introduces some basic theories of mathematical and computational neuroscience. … I found the book to be a very good tutorial in mathematical neuroscience, well written and organized. … The core is a compilation of mathematical results from a rich bibliography … . In conclusion, I strongly recommend this volume to any graduate student, postdoctoral fellow or researcher moving to the field of theoretical neuroscience." (Rodica Curtu, Mathematical Reviews, Issue 2007 d)