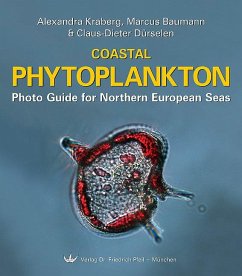 Andere Kunden interessierten sich
auch
für

In this Photo Guide for Northern European Seas we describe the major phytoplankton groups, diatoms and dinoflagellates with additional information on ciliates and smaller flagellates. In total we provide taxonomic, ecological and biogeographic information on more than 130 taxa. As the majority of students and professional plankton analysts will mainly work with the light microscope, the species in the book are documented with light micrographs, giving the reader a realistic view of species as seen in a water sample. The book is, therefore, not only suited for students and environmental managers, but also for amateur microscopists and laypersons.
Dr. Alexandra Kraberg has worked with phytoplankton for over 12 years, including time as a phytoplankton analyst for long-term monitoring programmes in Ireland and the UK. After receiving her PhD from the University of Liverpool in 2002, she moved to the Alfred Wegener Institute for Polar and Marine Science, where she has worked on a range of phytoplankton projects, e. g., dealing with intraspecific diversity in diatoms. Since 2004 she is the co-ordinator of the international PLANKTON NET database system . She is also a member of the ICES working group on phytoplankton and microbial ecology.
Dr. Claus-Dieter Dürselen received his PhD from the University of Oldenburg in 1995. While at Olden burg as a post doc, Dr. Dürselen worked as a phytoplankton expert in different national and international research projects. Together with a former research colleague, he founded the environmental company AquaEcology in 2002. Dr. Dürselen is a plankton consultant to the regional and local water authorities of Northern Germany.
Prof. Dr. Marcus Baumann has studied phytoplankton of the North Sea and the polar regions, both the Arctic and the Antarctic for more than 30 years. After two years as a researcher at the Alfred Wegener Institute he became head of the environmental services department at the FH Aachen, University of Applied Sciences, before receiving a professorship in biotechnology. Currently he is the rector at the FH Aachen.
Produktdetails
Verlag: Pfeil
Seitenzahl: 204
Erscheinungstermin: Juni 2010
Englisch
Abmessung: 238mm x 213mm x 15mm
Gewicht: 696g
ISBN-13: 9783899371130
ISBN-10: 3899371135
Artikelnr.: 30605128
Inhalt Introduction 7 Acknowledgements 7 The diversity of phytoplankton and its classification 8 General taxonomic comments 8 1. Diatoms 9 Centric diatoms 10 Pennate diatoms 13 2. Dinoflagellates 17 3. Other planktonic organisms 22 Notes on methodology 23 Ecological aspects concerning phytoplankton 25 Nutrient supply 25 Types of nutrition 26 Factors influencing photosynthesis 27 Food webs 27 Annual succession of Phytoplankton 28 'Harmful algal blooms' 29 Alien species 30 How to use this book 31 Legends for page headers 31 Centric Diatoms 32 Bacteriastrum hyalinum 32 Chaetoceros danicus 33 Chaetoceros borealis 34 Chaetoceros densus 35 Chaetoceros eibenii 36 Chaetoceros cf. compressus 37 Chaetoceros lauderi 38 Chaetoceros didymus 39 Chaetoceros decipiens 40 Chaetoceros curvisetus 41 Chaetoceros debilis 42 Chaetoceros diadema 43 Chaetoceros socialis 44 Chaetoceros subtilis 45 Coscinodiscus asteromphalus 46 Coscinodiscus concinnus 47 Coscinodiscus granii 48 Coscinodiscus radiatus 49 Coscinodiscus wailesii 50 Actinoptychus senarius 51 Actinocyclus octonarius 52 Podosira stelligera 53 Melosira moniliformis 54 Stephanopyxis turris 55 Paralia sulcata 56 Lauderia annulata 57 Detonula confervacea 58 Detonula pumila 59 Skeletonema 60 Porosira glacialis 61 Thalassiosira angulata 62 Thalassiosira anguste
lineata 63 Thalassiosira eccentrica 64 Thalassiosira hendeyi 65 Thalassiosira minima 66 Thalassiosira nordenskioeldii 67 Thalassiosira punctigera 68 Thalassiosira constricta 69 Thalassiosira rotula 70 Dactyliosolen fragilissimus 71 Guinardia delicatula 72 Guinardia striata 73 Guinardia flaccida 74 Proboscia alata 75 Rhizosolenia imbricata 76 Rhizosolenia styliformis 77 Rhizosolenia hebetata f. semispina 78 Rhizosolenia setigera 79 Neocalyptrella robusta 80 Leptocylindrus danicus 81 Leptocylindrus minimus 82 Brockmanniella brockmannii 83 Plagiogrammopsis vanheurckii 84 Cerataulina pelagica 85 Eucampia zodiacus 86 Ditylum brightwellii 87 Helicotheca tamesis 88 Lithodesmium undulatum 89 Bellerochea malleus 90 Mediopyxis helysia 91 Biddulphia alternans 92 Odontella sinensis 93 Odontella mobiliensis 94 Odontella regia 95 Odontella rhombus 96 Odontella aurita 97 Triceratium favus 99 Bacillaria paxillifer 99 Cylindrotheca closterium 100 Pseudo
nitzschia pungens 101 Pseudo
nitzschia seriata 102 Pseudo
nitzschia delicatissima 103 Meuniera membranacea 104 Pleurosigma/Gyrosigma 105 Asterionellopsis glacialis 106 Asteroplanus karianus 107 Striatella unipunctata 108 Delphineis surirella 109 Rhaphoneis amphiceros 110 Thalassionema nitzschioides 111 Other diatom species occasionally occurring in the German Bight 112 Dinoflagellates 114 Akashiwo sanguinea 114 Amphidinium carterae 115 Lepidodinium chlorophorum 116 Gyrodinium spirale 117 Gyrodinium undulans 118 Sclerodinium calyptoglyphe 119 Karenia mikimotoi 120 Katodinium glaucum 121 Polykrikos schwartzii 122 Nematodinium armatum 123 Torodinium robustum 124 Noctiluca scintillans 125 Dinophysis acuta 126 Dinophysis norvegica 127 Dinophysis acuminata 128 Phalacroma rotundatum 129 Mesoporos perforatus 130 Prorocentrum micans 131 Prorocentrum minimum 132 Prorocentrum triestinum 133 Ceratium furca 134 Ceratium fusus 135 Ceratium horridum 136 Ceratium lineatum 137 Ceratium macroceros 138 Ceratium tripos 139 Peridiniella danica 140 Gonyaulax spinifera 141 Alexandrium tamarense 142 Alexandrium minutum 143 Alexandrium ostenfeldii 144 Protoceratium reticulatum 145 Heterocapsa rotundata 146 Heterocapsa triquetra 147 Diplopsalis lenticula 148 Oblea rotunda 149 Preperidinium meunieri 150 Protoperidinium 151 Protoperidinium claudicans 152 Protoperidinium depressum 153 Protoperidinium pentagonum 154 Protoperidinium divergens 155 Protoperidinium conicum 156 Protoperidinium obtusum 157 Protoperidinium ovatum 158 Protoperidinium pallidum 159 Protoperidinium pellucidum 160 Protoperidinium subinerme 161 Protoperidinium pyriforme 162 Protoperidinium steinii 163 Protoperidinium bipes 164 Protoperidinium brevipes 165 Protoperidinium denticulatum 166 Protoperidinium thorianum 167 Protoperidinium minutum 168 Scrippsiella cf. trochoidea 169 Dissodinium 170 Pyrophacus horologium 171 Fragilidium subglobosum 172 Marine Flagellates 173 Chrysochromulina sp. 173 Prymnesium sp. 174 Emiliania huxleyi 174 Phaeocystis sp. 174 Phaeocystis globosa 174 Phaeocystis pouchetii 175 Chattonella sp. B. 175 Fibrocapsa japonica 176 Cryptomonas sp. C. 176 Leucocryptos marina 176 Hemiselmis sp. 177 Rhodomonas sp. 177 Teleaulax sp. 177 Eutreptiella sp. 178 Tetraselmis sp. 178 Pyramimonas sp. 179 Dictyocha speculum 179 Dictyocha fibula 180 Ciliates 181 Laboea strobila 181 Myrionecta rubra 181 Lohmanniella oviformis 181 Tiarina fusus 181 Glossary 182 General phytoplankton references 189 Taxonomic references 189 Web resources 197 Index of Taxa 198