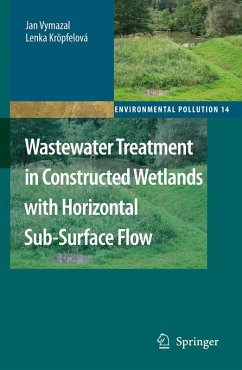 Produktdetails
Environmental Pollution 14
Verlag: Springer / Springer Netherlands
Artikelnr. des Verlages: 12268221
Erscheinungstermin: 28. Juli 2008
Englisch
Abmessung: 241mm x 160mm x 36mm
Gewicht: 1102g
ISBN-13: 9781402085796
ISBN-10: 1402085796
Artikelnr.: 23567660
The Authors.- Preface.- Introduction.- Transformation Mechanisms Of Major Nutrients And Metals In Wetlands.- Wetland Plants.- Types Of Constructed Wetlands For Wastewater Treatment.- Horizontal Flow Constructed Wetlands. Types Of Wastewater Treated In HF Constructed Wetlands.- The Use Of HF Constructed Wetlands In The World.- References.-Suggested Reading.- Subject Index.