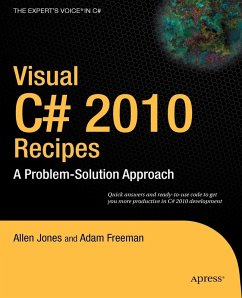 Andere Kunden interessierten sich
auch
für
Visual C# 2010 Recipes explores the breadth of the .NET Framework class library and provides specific solutions to common and interesting programming problems. Each recipe is presented in a succinct problem/solution format and is accompanied by a working code sample to help you understand the concept and quickly apply it.

When you are facing a Visual C# 2010 problem, this book likely contains a recipe providing the solution-or at least points you in the right direction. Even if you are simply looking to broaden your knowledge of the .NET framework class library, Visual C# 2010 Recipes is the perfect resource to assist you.

This is an updated reference for .NET 4.0 programmers. All code samples come as stand-alone Visual Studio 2010 solutions for your convenience.


Produktdetails
The Expert's Voice in C sharp
Verlag: Apress
1st ed.
Seitenzahl: 1016
Erscheinungstermin: 20. März 2010
Englisch
Abmessung: 237mm x 192mm x 60mm
Gewicht: 1810g
ISBN-13: 9781430225256
ISBN-10: 1430225254
Artikelnr.: 26898093
Application Development Data Manipulation Application Domains, Reflection, and Metadata Threads, Processes, and Synchronization Files, Directories, and I/O XML Processing Windows Forms Graphics, Multimedia, and Printing Database Access Networking Security and Cryptography Unmanaged Code Interoperability Commonly Used Interfaces and Patterns Windows Integration Parallel Programming Using LINQ Windows Presentation Foundation