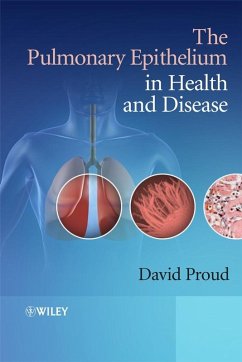 Andere Kunden interessierten sich
auch
für
Produktdetails
Verlag: Wiley & Sons
Seitenzahl: 441
Erscheinungstermin: Juni 2008
Englisch
Abmessung: 246mm x 177mm x 30mm
Gewicht: 930g
ISBN-13: 9780470059517
ISBN-10: 0470059516
Artikelnr.: 23335511
Preface. List of Contributors. 1. Pulmonary Epithelium: Cell Types and Functions (Mary Mann-Jong Chang
Laura Shih and Reen Wu). 2. Epithelial Adhesive Structures and Adhesion Molecule Expression(George Su and Dean Sheppard). 3. The Epithelium as a Target (Louise E. Donnelly). 4. Epithelial Repair and Function (Carl G. A. Persson
Morgan Andersson and Lena Uller). 5. Integration of Epithelial Ion Transport Activities into Airway Surface Liquid Volume and Ion Composition Regulation (Mark T. Clunes
Peter F. Bove and Richard C. Boucher). 6. Structure and Function of Cilia (Andreas Schmid and Matthias Salathe). 7. Composition and Function of Airway Mucus (Duncan F. Rogers). 8. The Pulmonary Surfactant System (Nicole A. Rocca
Ruud A.W. Veldhuizen and James F. Lewis). 9. Microbial Recognition by Epithelium (Catherine M. Greene and Stephen G. J. Smith). 10. Epithelial Antimicrobial Molecules (Pieter S. Hiemstra). 11. The Epithelium and Immunoregulation (Angela Rate and John W. Upham). 12. Interactions of Respiratory Viruses with the Epitheliumb(Umadevi S. Sajjan
Dawn C. Newcomb
Toby C. Lewis
Christine S. Stahle and Marc B. Hershenson). 13. Bacterial Interactions with the Airway Epithelium (Marisa I. Gómez and Alice Prince). 14. Interactions of Pollutants with the Epithelium (Ernst Wm. Spannhake). 15. Interactions between Allergens and the Airway Epithelium (Clive Robinson and Jihui Zhang
Geoffrey A. Stewart). 16. The Epithelium as a Regulator of Airway Inflammation (Richard Leigh and David Proud). 17. The Epithelium and Airway Remodelling (Stephen T. Holgate). 18. Modulation of Epithelial Cell Function by Glucocorticoids: Anti-inflammatory and Other Effects (Robert Newton
Manminder Kaur
Elizabeth M. King
Wei Gong
Donna M. Slater and Neil S. Holden). 19. The Airway Epithelium as a Target for the Therapeutic Actions of ß2-Adrenoceptor Agonists and Muscarinic-receptor Antagonists (Mark A. Giembycz). 20. Pulmonary Delivery of Novel Therapies (Bruce Rubin and James B. Fink). Index.

"This is essential reading for everyone who would like to update their knowledge of the pulmonary epithelium. It offers a comparison between laboratory animal models and human lungs, highlighting the differences and the similarities between the two, which will be particularly useful to researchers." ( Doody s , April 2009)