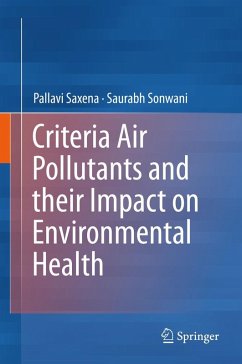 Andere Kunden interessierten sich
auch
für


Globally, this category of air pollutants has been given less attention, only few studies have been reported in this area. This book begins with a short background on criteria air pollutants and their sources, sinks and chemistry. The chapters explore the detailed nature of primary pollutants criteria pollutants such as nitrogen dioxide, sulphur dioxide, carbon monoxide, particulate matter and lead. Their reaction mechanisms, climate change potency, environmental health effects on plants and human life are discussed. The book also covers secondary pollutants such as ozone. The book discusses ozone chemistry and its environmental health effects. This book act as a valuable tool for students in Environmental Science, Biological Science and Agriculture, as well as environmental consultants and professionals involved in air quality research and the application of air quality guidelines and advice.


Produktdetails
Artikelnr. des Verlages: 978-981-13-9991-6
1st ed. 2019
Seitenzahl: 157
Erscheinungstermin: 25. November 2019
Englisch
Abmessung: 254mm x 178mm
Gewicht: 424g
ISBN-13: 9789811399916
ISBN-10: 9811399913
Artikelnr.: 56963251
Tentative Table of Contents-

1. Introduction .- 2. Criteria Air Pollutants: chemistry, sources and sinks.- 3. Primary Criteria Air Pollutants: Environmental Health Effects .- 4. Secondary Criteria Air Pollutants: Environmental Health Effects .-  5. Policy Regulations and future recommendations.