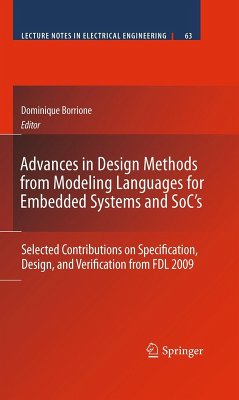 Andere Kunden interessierten sich
auch
für


FDL 2009 is the twelfth in a series of events that were held all over Europe, in selected locations renowned for their Universities and Reseach Institutions as well as the importance of their industrial environment in Computer Science and Micro-electronics. In 2009, FDL was organized in the attractive south of France area of Sophia Antipolis. together with the DASIP (Design and Architectures for Signal and Image Processing) Conference and the SAME (Sophia Antipolis MicroElectronics ) Forum.

All submitted papers were carefully reviewed to build a program with 27 full and 10 short contributions. From these, the Program Committee selected a shorter list, based on the evaluations of the reviewers, and the originality and relevance of the work that was presented at the Forum. The revised, and sometimes extended versions of these contributions constitute the chapters of this volume.

Advances in Design Methods from Modeling Languages for Embedded Systems and SoC's presents extensions to standard specification and description languages, as well as new language-based design techniques and methodologies to solve the challenges raised by mixed signal and multi-processor systems on a chip. It is intended as a reference for researchers and lecturers, as well as a state of the art milestone for designers and CAD developers.


Produktdetails
Lecture Notes in Electrical Engineering 63
Verlag: Springer / Springer Netherlands
2010
Seitenzahl: 256
Erscheinungstermin: 6. November 2012
Englisch
Abmessung: 235mm x 155mm x 13mm
Gewicht: 394g
ISBN-13: 9789400733336
ISBN-10: 940073333X
Artikelnr.: 36612269
Part I UML and MDE for Embedded Systems. IP-XACT components with Abstract Time Characterization; Frédéric Mallet, Charles André and Robert de Simone. MDE Support for HW/SW Codesign: a UML-based Design Flow; Luis Gabriel Murillo, Marcello Mura and Mauro PrevostiniPart II C/C++-Based System Design. Checkpoint and Restore for SystemC Models; Màrius Montón, et al. Efficient Approximately-Timed Performance Modeling for Architectural Exploration of MPSoCs; Martin Streubühr, et al. Fast SystemC Performance Models For The Exploration Of Embedded Memories; Hans-Peter Loeb and Christian Sauer. Another take on functional system-level design and modeling; Tomasz Toczek, et al. Generic Model for Application-Specific Processors on Reconfigurable Fabric; Arda Yurdakul, et al. A SystemC Superset for High-Level Synthesis; Maxim Smirnov and Andres Takach.Part III Embedded Analog and Mixed-Signal System Design. Design of Experiments for Effective Pre-silicon Verification of Automotive Electronics;