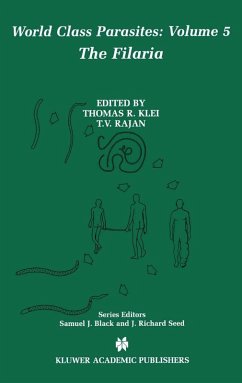 Andere Kunden interessierten sich
auch
für

The Filaria, volume five of World Class Parasites, is written for researchers, students and scholars who enjoy reading research that has a major impact on human health, or agricultural productivity, and against which we have no satisfactory defense. It is intended to supplement more formal texts that cover taxonomy, life cycles, morphology, vector distribution, symptoms and treatment. It integrates vector, pathogen and host biology and celebrates the diversity of approach that comprises modern parasitological research.
Produktdetails
World Class Parasites 5
Verlag: Springer / Springer, Berlin
Artikelnr. des Verlages: 978-1-4020-7038-9
2002
Seitenzahl: 192
Erscheinungstermin: 31. Mai 2002
Englisch
Abmessung: 241mm x 160mm x 15mm
Gewicht: 990g
ISBN-13: 9781402070389
ISBN-10: 1402070381
Artikelnr.: 21305935
Preface. Lymphatic filarial infections: an introduction to the filariae; J.W. Kazura. Vector-Parasite Interactions in Mosquito-Borne Filariasis; L.C. Bartholomay, B.M. Christensen. Evolutionary Relationships Among Filarial Nematodes; O. Bain. Filarial Genomics: Gene Discovery and Gene Expression; S.A. Williams, S.J. Laney. The Epidemiology of Onchocerciasis and the Long Term Impact of Existing Control Strategies on this Infection; P. Fischer, D.W. Büttner. The Epidemiology of Filariasis Control; E. Michael. Host Factors, Parasite Factors, and External Factors Involved in the Pathogenesis of Filarial Infections; D.O. Freedman. Natural History of Human Filariasis - The Elusive Road; B. Ravindran. In Utero Exposure to Filarial Antigens and its Influence on Infection Outcomes; P.J. Lammie. Immune Effectors Important in Protective Resistance; A. Hoerauf. Immune Regulation and the Spectrum of Filarial Disease; C.L. King. Wolbachia Bacterial Endosymbionts; M.J. Taylor. Approaches to the Control and Elimination of the Clinically Important Filarial Diseases; C.D. Mackenzie, et al. Vaccines For Filarial Infections; P.B. Keiser, T.B. Nutman. Index.