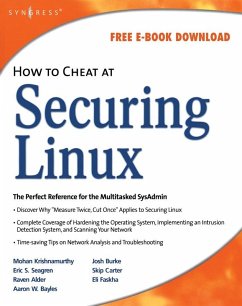 Geräte: PC

mit Kopierschutz

Größe: 29.35MB
This book teaches Linux system administrators how to protect their servers from malicious threats.
As with any technologies, increased usage results in increased attention from malicious hackers. For years a myth existed that Windows was inherently less secure than Linux, because there were significantly more attacks against Windows machines than Linux. This was a fallacy. There were more attacks against Windows machines because there were simply so many more Windows machines to attack. Now, the numbers tell the exact opposite story. Linux servers account for 1/3 of all servers worldwide, but in 2005 there were 3 times as many high-severity security vulnerabilities discovered on Linux servers (Source: IDC).
This book covers Open Source security, implementing an intrusion detection system, unearthing Rootkits, defending against malware, creating Virtual Private Networks, and much more.
The Perfect Reference for the Multitasked SysAdmin
* Discover Why "Measure Twice, Cut Once" Applies to Securing Linux
* Complete Coverage of Hardening the Operating System, Implementing an Intrusion Detection System, and Defending Databases
* Short on Theory, History, and Technical Data that Is Not Helpful in Performing Your Job
---
Dieser Download kann aus rechtlichen Gründen nur mit Rechnungsadresse in A, B, BG, CY, CZ, D, DK, EW, E, FIN, F, GR, HR, H, IRL, I, LT, L, LR, M, NL, PL, P, R, S, SLO, SK ausgeliefert werden.