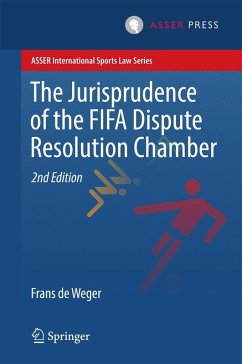 Frans M. de Weger is senior legal counsel working for the Dutch Federation of Professional Football Clubs (FBO). In 2015 he was, at the proposal of the European Club Association (ECA), appointed as an arbitrator for the Court of Arbitration for Sport (CAS). As a legal counsel and a CAS arbitrator he is involved in several national and international football-related legal disputes.
This book appears in the ASSER International Sports Law Series, under the editorship of Prof. Dr. Ben Van Rompuy and Dr. Antoine Duval.
"Frans de Weger's work on the jurisprudence of the DRC is a "must-have" for anybody dealing with sports law and, in particular, dealing with football issues under the FIFA Regulations on the Status and Transfer of Players."
Massimo Coccia
Professor of International Law and Attorney-at-Law in Rome and CAS Arbitrator
"Where to go when trying to understand the FIFA Regulations on the Status and Transfer of Players? Now Frans de Weger has the answer with his new version of the much-awaited and needed Jurisprudence of the FIFA Dispute Resolution Chamber."
Juan de Dios Crespo Pérez
Sports Lawyer
"The second edition of this book, which is systematic and practical at the same time, will surely be of great interest to both specialists active in the world of "football law" and aspiring individuals."
Wouter Lambrecht
Attorney-at-law, Head of Legal at the European Club Association, FIFA Dispute Resolution Chamber Member and Mediator at the CAS
---
Dieser Download kann aus rechtlichen Gründen nur mit Rechnungsadresse in A, B, BG, CY, CZ, D, DK, EW, E, FIN, F, GR, HR, H, IRL, I, LT, L, LR, M, NL, PL, P, R, S, SLO, SK ausgeliefert werden.
Produktdetails
Verlag: Springer-Verlag GmbH
Seitenzahl: 495
Erscheinungstermin: 30. September 2016
Englisch
ISBN-13: 9789462651265
Artikelnr.: 46926629