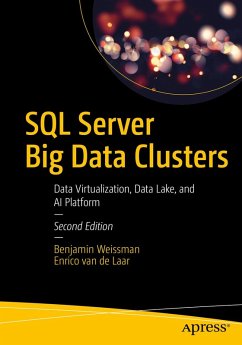 Andere Kunden interessierten sich
auch
für
Filled with clear examples and use cases, this book provides everything necessary to get started working with Big Data Clusters in SQL Server 2019. You will learn about the architectural foundations that are made up from Kubernetes, Spark, HDFS, and SQL Server on Linux. You then are shown how to configure and deploy Big Data Clusters in on-premises environments or in the cloud. Next, you are taught about querying. You will learn to write queries in Transact-SQL-taking advantage of skills you have honed for years-and with those queries you will be able to examine and analyze data from a wide variety of sources such as Apache Spark.
Through the theoretical foundation provided in this book and easy-to-follow example scripts and notebooks, you will be ready to use and unveil the full potential of SQL Server 2019: combining different types of data spread across widely disparate sources into a single view that is useful for business intelligence and machine learning analysis.
What You Will Learn
Install, manage, and troubleshoot Big Data Clusters in cloud or on-premise environments
Analyze large volumes of data directly from SQL Server and/or Apache Spark
Manage data stored in HDFS from SQL Server as if it were relational data
Implement advanced analytics solutions through machine learning and AI
Expose different data sources as a single logical source using data virtualization
Who This Book Is For
Data engineers, data scientists, data architects, and database administrators who want to employ data virtualization and big data analytics in their environments
---
Dieser Download kann aus rechtlichen Gründen nur mit Rechnungsadresse in A, B, BG, CY, CZ, D, DK, EW, E, FIN, F, GR, HR, H, IRL, I, LT, L, LR, M, NL, PL, P, R, S, SLO, SK ausgeliefert werden.
Produktdetails
Verlag: Springer-Verlag GmbH
Seitenzahl: 260
Erscheinungstermin: 23. Mai 2020
Englisch
ISBN-13: 9781484259856
Artikelnr.: 59501597
1. What Are Big Data Clusters? 2. Big Data Cluster Architecture 3. Installation, Deployment, and Management of Big Data Clusters 4. Loading Data into Big Data Clusters 5. Querying Big Data Clusters through T-SQL 6. Working with Spark in Big Data Clusters 7. Machine Learning on Big Data Clusters 8. Create and Consume Big Data Cluster Apps
Es gelten unsere Allgemeinen Geschäftsbedingungen: www.buecher.de/agb
Impressum
www.buecher.de ist ein Shop der
buecher.de GmbH & Co. KG
Bürgermeister-Wegele-Str. 12,
86167 Augsburg
Amtsgericht Augsburg HRA 13309
Persönlich haftender Gesellschafter: buecher.de Verwaltungs GmbH
Amtsgericht Augsburg HRB 16890

Vertretungsberechtigte:
Günter Hilger, Geschäftsführer
Clemens Todd, Geschäftsführer

Sitz der Gesellschaft:Augsburg
Ust-IdNr. DE 204210010
---
Bitte wählen Sie Ihr Anliegen aus.